Aqua-Base ESB Watermaker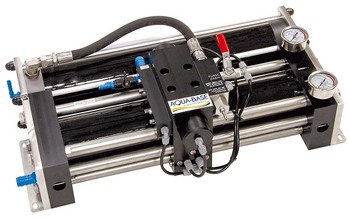 The Aqua-Base ESB desalination system uses an advanced energy recovery design to extract fresh water from sea water. With a production rate starting at 35 litres per hour, the base 12 volt unit draws only 12 amps.
Manual Operation
The unit requires full manual control without the use of any electronics. This can be a preferred configuration for operation on cruising yachts that venture into remote locations. Although modern electronics are very reliable, the ultimate reliability can sometimes be met on a manual system.
Supplied Installation Kit
All units are supplied with a comprehensive installation kit that supplies everyting except vessel through-hull fittings. See installation manual for details.
ESB Installation
The Aqua-Base ESB system has simplest installation of all models. The operation of the unit is entirely manual.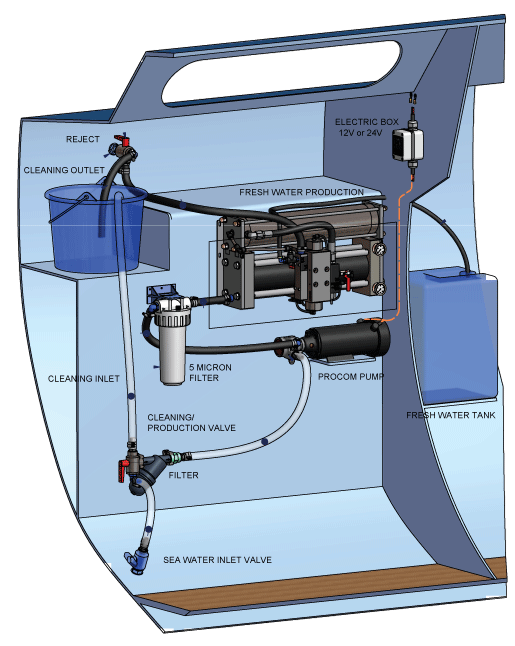 Seawater Input
An inlet valve supplies seawater to the system through an inline mesh filter which removes larger foreign particles. A Procom pump pressurises the sea water to approximately 6 BAR and then feeds it to the fresh water reverse ozmosis (RO) unit through a 5 micron particle filter.
Fresh Water Production
Fresh water is produced by passing water through a RO membrane at high pressure. A special energy recovery pump amplifies the 6 BAR pressure from the procom pump to approximately 60 BAR pressure required by the RO membrane. The actual pressure generated depends on water temperature and salinity - there is nothing to adjust as the system is fully automatic.
About 10% of incoming seawater is made into fresh water that is diverted to the vessel fresh water tank. The remaining 90% is directed overboard.Provision is made for the fresh water to be tested before switching the diversion valve.
Electrical Connections
The unit requires 12 volt or 24 volt DC for operation. Power is typically provided by a circuit breaker located at the main vessel switchboard.
Maintenance
If the unit is run on a daily basis, simply test the production water before diverting to the fresh water tank. It is good practice however to flush the system with fresh water after each use. In this case the system can go up to a couple of weeks without further care.
For longer times without use, the system is first flushed with fresh water followed up with a recirculation of a biocide chemical that will inhibit the growth of organic matter.