Outback 12/24 Volt Lithium Battery Packs
Designed and manufactured by Outback Marine, the Lithium Ion battery pack systems provide a storage battery facility that is ideally suited to land and sea based mobile applications.
The individual Lithium Ion cells are housed in an enclosure that has been designed from the outset to satisfy the installation and operational requirements for vessel and land based mobile use. The packs use the Lithium Iron Phosphate chemistry that used in conjunction with our expert battery management systems provides a solution that is safer than convention lead acid technology.
LFP Applications
Vessel house battery systems
Caravan, canper and RV's
Off grid power systems
Lighting towers
Golf carts
DC air conditioning
Industrial control systems
Professional Enclosure Design
The enclosure structure is manufactured from fire rated composite materials that are non-conductive. The design features a bolt down mounting plate that secures the battery pack to a horizontal surface. The cells are contained between two compact laminate compression plates that prevent cell expansion and immobilise the batteries from movement or vibration. Each battery has a standard ANL fuse for protection against external short circuit. Retention straps are fitted as a precaution to secure the cells in case of rollover and a fire rated top cover provides an insulated barrier that guards against mechanical intrusion. Removable lifting slings are provided to assist with transport and installation.
It's all about functionality ...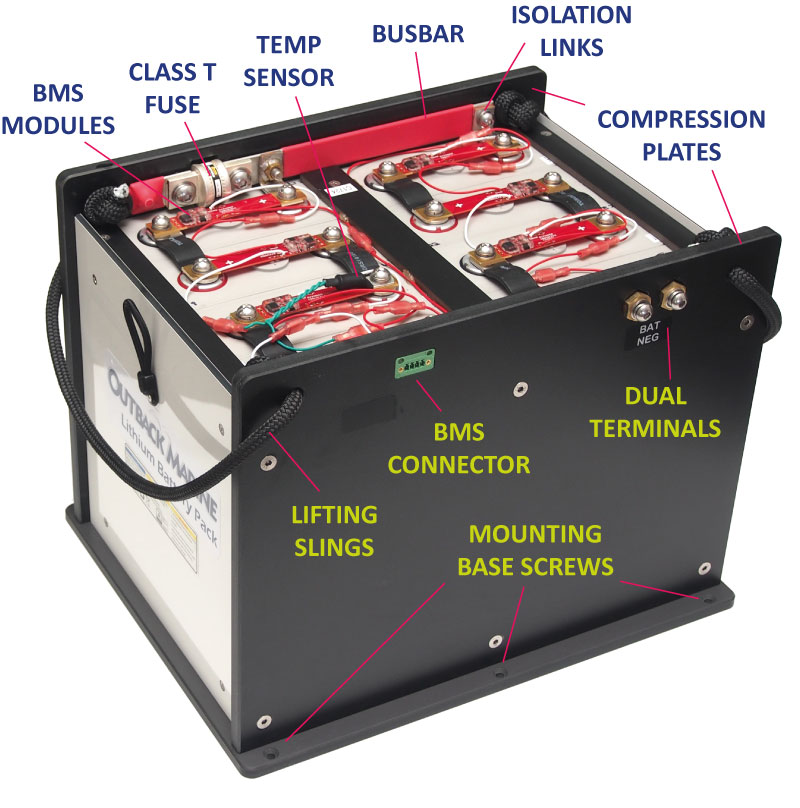 The battery packs are made up of individual LiFePO4 prismatic type battery cells that are interconnected by bus bar links. Four 180 amp hour cells connected in series make a 180 amp hour 12 volt battery bank. Subsequent parallel connection of four cell banks extend the series to 360AH, 540AH and 720AH capacity 12 volt packs. In a similiar fashion 24 volt packs are available in 180 and 360 amp hour capacities. The modular construction allows for insitu replacement of any individual cell. The multi-bank packs also have the ability to easily isolate a faulty bank by simply removing a link in the very unlikely event of a cell failure.
Each cell is fitted with a battery management board that acts as a standalone shunt regulator to act in unison with the other cell based boards to balance all cells within each four cell bank. In addition, each cell is monitored for over and under voltage conditions that if left unchecked would compromise the performance of the battery pack and most likely cause permanent cell damage. Red and green LED's that are visible through windows on the top cover indicate the status of each cell.
Note that the cell monitoring feature provides protection only when used with a separately provided external battery management system that can isolate the battery in the event of an abnormal cell condition.
Additional safety features include provision of a 600 amp ANL type fuse on the positive terminal to protect the pack and the cable from a short circuit or overcurrent condition. (Note that the fuse is not intended to limit the continuous or peak current draw specifications of the battery pack). A thermistor is installed for monitoring the battery bank temperature.
Features
Safe LiFePO4 Lithium Ferro Phosphate (LFP) battery cell chemistry
Practical enclosure for mobile applications
Safe fire rated composite enclosure
12 volt packs of 180, 360, 540 and 720 amp hour capacities
24 volt packs of 180 and 360 amp hour capacities
Parallel capability for larger battery banks
In situ cell replacement capability
Bank isolation capability in multi bank battery packs
Cell level charge balancing to optimise battery capacity (with LED indication)
Cell level over voltage and under voltage monitoring (with LED indication)
Battery temperature sensor
Output fused for overcurrent protection
Top only service requirement
Removable lifting slings provided