Outback 5 KWH / 2400 Watt Auxilliary Power Pack - Base Version
An auxiliary power pack (APP) utilising a Victron MultiPlus inverter charger and 5KWH lithium battery.
---
---
Insurance
All shipments are covered for loss or damage while in transit up to the point of delivery to the nominated shipping address. Insurance does not cover goods left on your premises under your instruction.
An auxiliary power pack (APP) utilising a Victron MultiPlus inverter charger and 5KWH lithium battery.
All AC and DC circuit breakers are installed with cable glands providing secure cable entry. The compact laminate enclosure is fully insulated and fire rated.
The power pack can provide AC power when there is no mains power available. Common applications would include food vans and emergency service vehicles. In its basic form, battery charging is handled by plugging the unit into an AC Mains supply (shore power) to utilise the battery charging capability of the MultiPlus inverter charger. This would typically be handled when the vehicle is not in use. In this mode, AC power is available on all four AC outlets. When the unit is in field operation, the inverter will supply output power so long as there is available battery capacity. The power is available on AC Outlets 1 through 3.
The diagram below shows a fully expanded system. This system only contains the products listed to the right.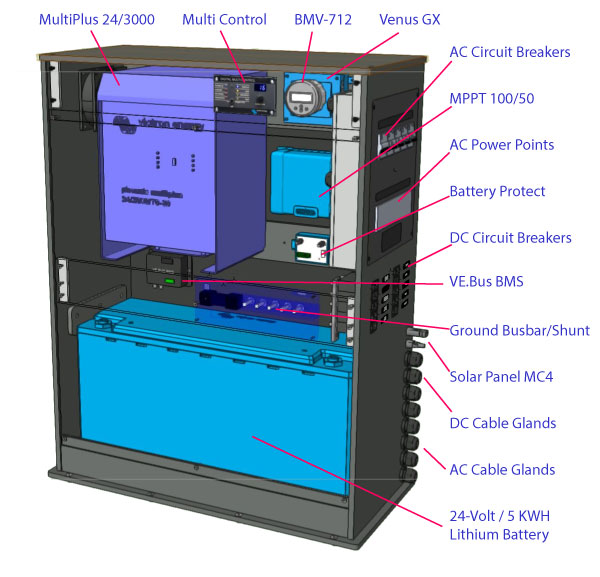 The Victron lithium battery is managed by the included VE.Bus BMS which ensures that the battery is not operated outside of its operational requirements. The BMS will signal the charging and load devices for normal operation. If an abnormal condition is detected, charging and or discharging of the battery is prohibited. A BMV-712 battery monitor keeps track of the battery State of Charge (SOC) as well as battery volts and amps.
Included Product List
Items marked "Base" are included in all variations. Other items may be deleted at a reduced cost.
Enquiry Form
Be The First To Review This Product!
Help other Outback Marine Australia Pty Ltd users shop smarter by writing reviews for products you have purchased.