Outback M Series Type 1 DC Distribution Board
The DCDT1M00 is a universal DC power distribution board for house battery installations in boats, caravans, RV's and commercial automotive applications.
---
Related Products
---
Insurance
All shipments are covered for loss or damage while in transit up to the point of delivery to the nominated shipping address. Insurance does not cover goods left on your premises under your instruction.
The DCDT1M00 is a universal DC power distribution board for house battery installations in boats, caravans, RV's and commercial automotive applications.
Complete Power Distribution System
The board provides the core functionality of a professional electrical system suitable for expedition trucks, motorhomes, caravans, camping trailers, work trucks and coach based specialty vehicles. Connection points are available for all required components for a complete electrical system.
House battery isolation switch

Bus bar based fused circuit protection

Fused provision for direct connection of solar regulator

Fused provision for direct connection of inverter charger

Fused provision for direct connection of electrical panel

Shunt installation when purchased with BMV battery monitor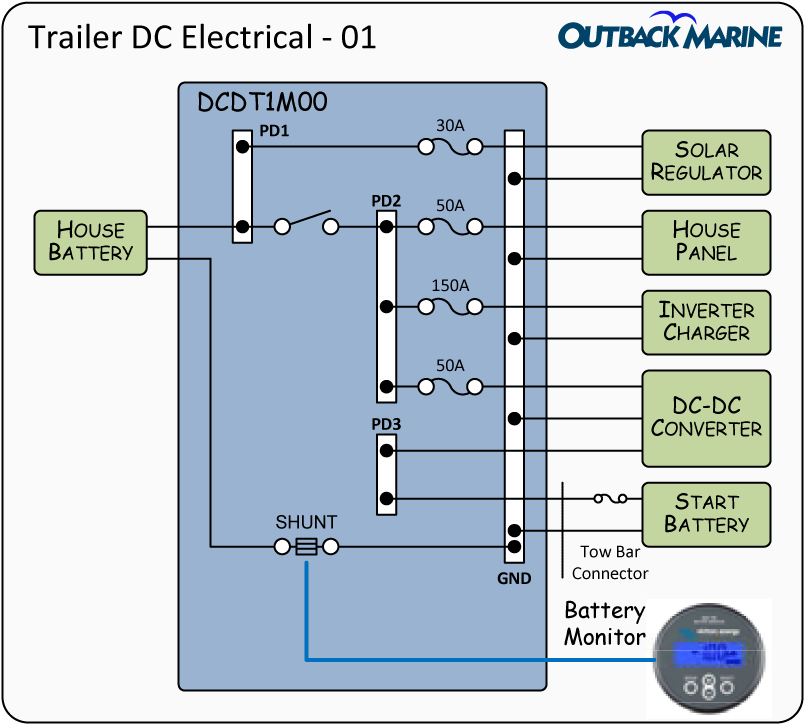 The DCD board serves as the heavy wiring hub of the electrical system. It's primary task is to distribute power to and from the house battery. A positive bus bar connects to the house battery via an isolation switch. Terminal fuses feed each primary branch circuit. A ground return bus bar with a current shunt connects back to the battery negative terminal. One of the power feeds connects to the house electrical panel that in turn feeds power to sub circuits.
The board includes provision for a Victron BMV700/702 battery monitor shunt to manage house battery useage. It is essentially a fuel gauge for the battery. The required current shunt is mounted and wired on the board ready for a simple plug connection when ordered with a BMV battery monitor.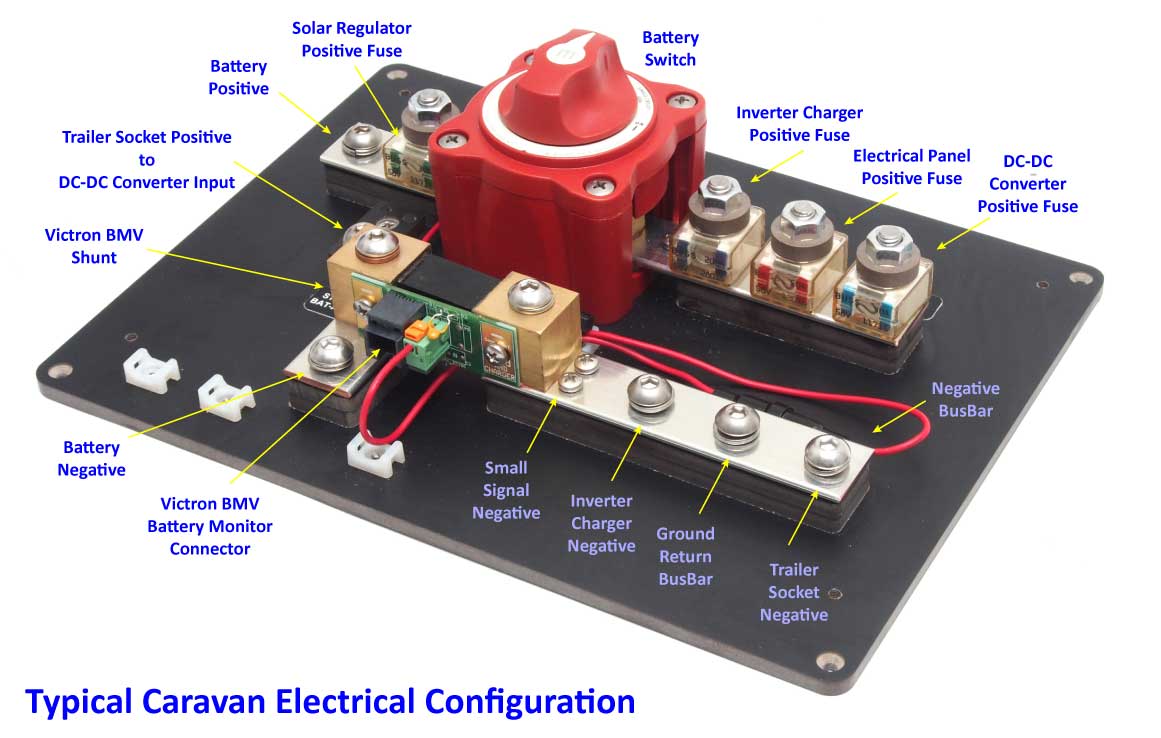 Balance of System
A fused connection point on the unswitched side of the battery switch can connect to a Victron MPPT solar regulator or a combined DC-DC converter / solar regulator. In either case the battery charge will be indefinitely maintained independent of the battery isolation switch position. The size of the regulator and required fuse is determined by the PV array size. The example shown below is a typical system featuring four 260 watt solar panels. A PV array isolation switch is recommended to safely isolate the PV array for any system maintenance.
A Victron Multiplus or Quattro inverter charger can directly connect to the busbar system. A terminal fuse (value determined by the inverter charger model) can be installed on the positive bus bar to provide circuit protection. An offboard inverter isolation switch is recommended to comply with safety standards,
A house electrical panel can provide a mounting point for the battery monitor and inverter charger remote panel. One circuit breaker supplies 24 volt power to a DC-DC converter for 12 volt consumers. Another circuit breaker supplies power to 24 volt branch consumers via a fuse block. Additional circuit breakers or fuse blocks can be used to source power to branch circuits.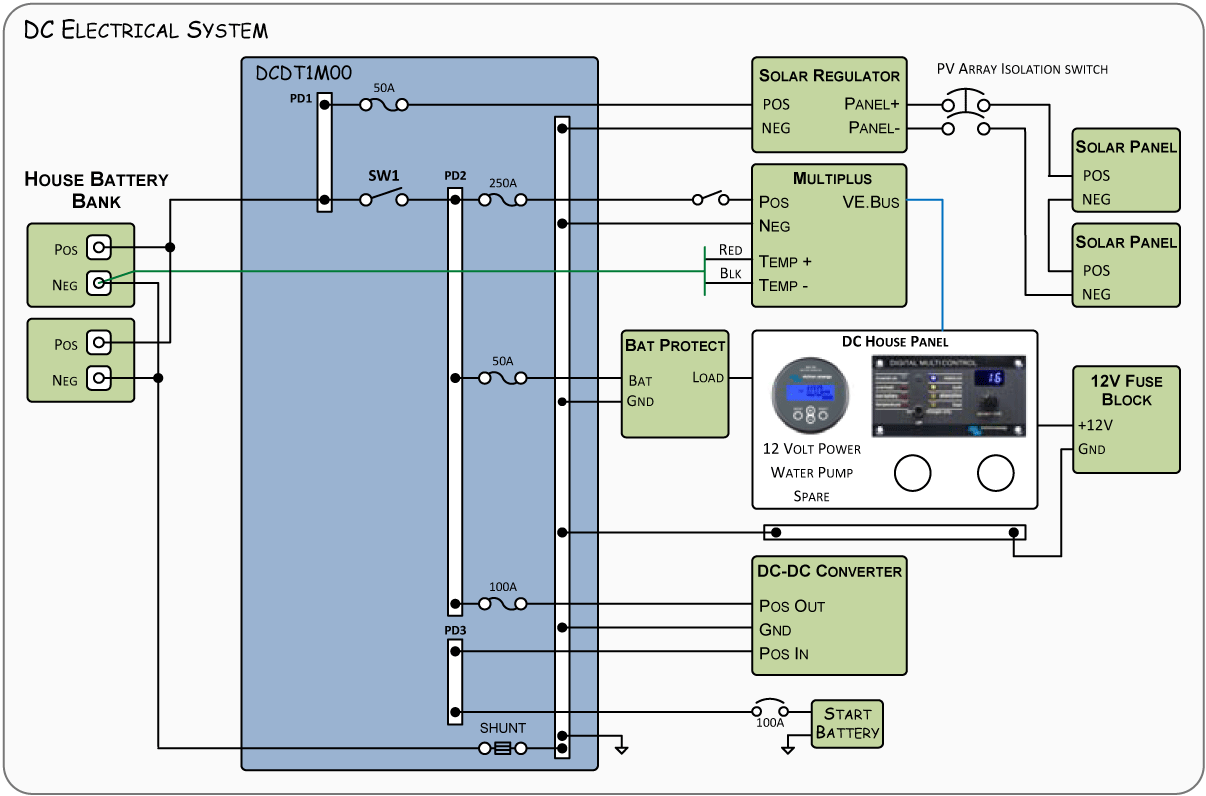 Enquiry Form
Be The First To Review This Product!
Help other Outback Marine Australia Pty Ltd users shop smarter by writing reviews for products you have purchased.
Customers Also Bought
More From This Category