Lithium Battery Management and DC Distribution System - 12V
The DCD03R21A is a DC power distribution board facility with built in Battery Management System support for a Lithium Ion house battery bank.
Availability:
SKU:

OMA.DCDT3A12V

Voltage: 12V
Manufacturer:

Outback Marine

MPN:

Shipping Weight:

0.00kg
---
---
Insurance
All shipments are covered for loss or damage while in transit up to the point of delivery to the nominated shipping address. Insurance does not cover goods left on your premises under your instruction.
The DCDT3A is a DC power distribution board facility with built in Battery Management System support for a Lithium Ion house battery bank.
The DCDT3A (DCD) DC Power Distribution Board is a central wiring hub for a DC electrical system that has a dual battery configuration utilising a Lithium Iron Phosphate (LiFePO4) main battery in conjunction with an Absorbed Glass Mat (AGM) lead‐acid start/reserve battery.
It incorporates a battery management system that allows for safe operation of the batteries. In the case of the main battery encountering a fault or over discharge condition, it provides a seamless changeover to the start battery so that vessel operation can continue while the fault condition is being cleared. A Battery Management Panel is used to monitor and operate the system.
The split bus architecture is essential for the connection of engines that don't have external alternator regulation – such as outboards and standard inboard diesel alternators. When the engines are charging, both batteries receive charge when the ACR is closed. If a BMS high voltage error occurs, the engine charging system can be isolated from the LFP battery yet still maintain charge to the start battery which inherently protects the alternators from damage that would otherwise be caused by voltage transients. At all times, the batteries can be manually operated – fully independent of the system electronics.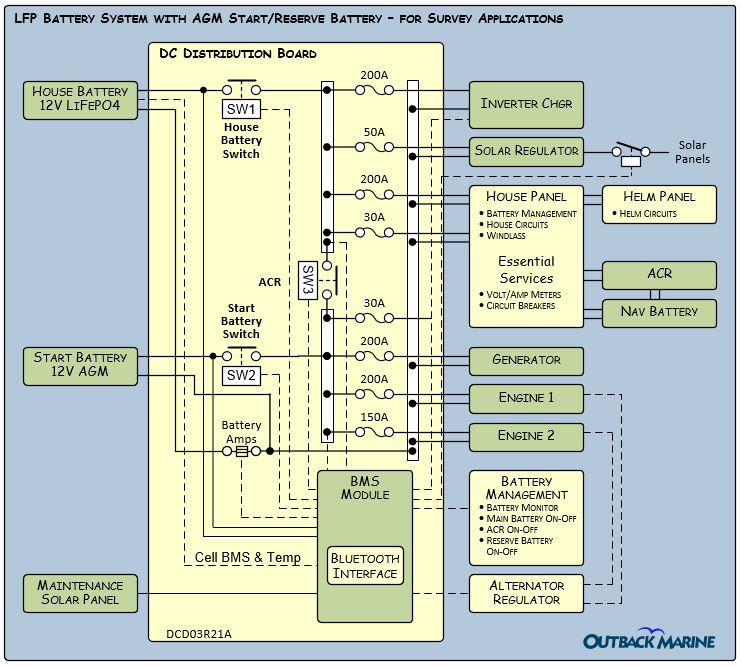 Features
12 or 24 volt operation up to 300 amps maximum combined input or output current
Main battery isolation solenoid with mechanical override
Start battery isolation solenoid with mechanical override
Cross charge/emergency start solenoid with mechanical overide
Provision for connection of 5 high current house devices and 4 high current start devices via MRBF type fuses (rated up to 300 amps each) and a negative return busbar
Battery Management Support for a LiFePO4 main battery and AGM start battery including over and under charge monitoring at both a system and LiFePO4 cell level
Seamless switching of AGM start battery in case of LiFePO4 battery lockout
Inverter and charge enable interface to Victron inverter charger for BMS support
Isolation capability of all remaining charge sources
Fully pluggable BMS module – can be changed by vessel operator
Fire rated base and cover for installation in a clean and dry location
Enquiry Form
Be The First To Review This Product!
Help other Outback Marine Australia Pty Ltd users shop smarter by writing reviews for products you have purchased.