About Us
We offer professional-grade products from trusted manufacturers. All products include the full manufacturer warranty.
Marine electrical, electronics, refrigeration, air conditioning, communications, stereo and DVD systems, lighting, deck gear - we have just about anything that touches a wire. Established in 1998, Outback Marine specialises in boat and yacht electrical system design with expertise extending to caravans and mobile homes. The company is located in Southport, Queensland Gold Coast. Our customers include the owners of boats, caravans and mobile homes, marine trade people, equipment dealers and boat/vehicle builders.
The company is committed to finding the best solutions that support reliable operation and comfortable living aboard whether at the dock, caravan park, coastal passage, tropical island, river anchorage or outback camping site. The search for quality products has extended worldwide.
We are an engineering-oriented company that is well qualified to handle the design of any vessel electrical system for commercial survey or leisure application. We hold a Queensland electrical contractors licence so that we are duly insured and certified to service any electrical installation.
In addition to selling the best brands of vessel equipment, we also design and manufacture dash panels, helm panels, electrical panels, distribution boards and refrigeration enclosures to provide an effective solution where a standard product is not suitable. We're proud to say that our customer base includes Australia's leading luxury boat manufacturer. A speciality application is the design and manufacture of replacement dash and helm panels for vessel refurbishment. We offer a full package including the supply of new electronics and switch layouts.
We're doing the best we can to offer our products and services at very competitive prices. Please let us know how we are doing on this front. It's our pleasure to be of help so just call or email for assistance.
DIY System Packs
Guaranteed best prices
Full system design services
Quoted price supply and installation
New Vessels, Full Refits and Refurbishments
Certified Queensland Electrical Contractor
Member Marine Queensland
Member Australian International Marine Export Group
Member American Boat and Yacht Council
Marine Electrical Systems
The design of a viable marine electrical system starts with a thorough understanding of the vessel and its intended use. The process of viewing the vessel plans or layout, documenting the on board equipment and discussion with the owner or builder about usage objectives; results in a system analysis that clearly identifies the major electrical equipment items and circuits required.
Outback Marine has developed a Systems Diagram that clearly documents the overall electrical system requirements of the particular vessel or vehicle. For a nominal fee, Outback Marine can produce the System Diagram of a client's vessel - from which a clear understanding of the project can be established.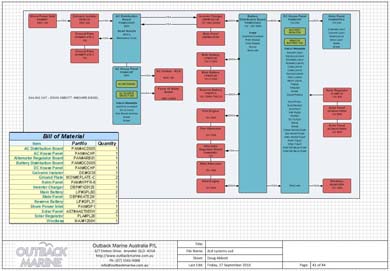 The System Diagram identifies all substantial elements of the design including a list of the AC and DC circuit devices. In addition to defining electrical loads, the device list forms the basis of specifying and costing the electrical panels. Once agreed at the system level, a detailed quotation for the equipment required to provision the project can be established. For new builds we recommend that we get involved early in the game so that the best locations and layout for the components can be duly allocated.
The products supplied by Outback Marine are documented to the extent that an experienced and qualified person can reasonably expect to install the system on the basis of the included documentation. Outback Marine staff are available for advice and/or the provision of detailed schematics for an additional consulting fee if required. Of course Outback Marine can complete the entire job including installation if required.
Systems for commercial survey vessels require special attention over and above leisure vessels to ensure that survey compliance is met. Outback Marine is experienced in this area including the design and provisioning of compliant schematics. We choose to keep at arms length however when it comes to the actual electrical survey and accordingly recommend a third party qualified surveyor to approve the installed system.
At the end of the day, our clients get a system that works as intended and one that is documented so that any problems that might be encountered in the future can be readily diagnosed. We expect that our systems are very economical when it comes to total cost of ownership.
Marine Systems Design and Manufacturing
The new Argus E35 coastal cruising catamaran is a state of the art design by Roger Hill Yacht Design that has a minimal carbon footprint and waterways impact. The class leading 10.65 metre 5.5 ton displacement design has a cruising speed range of 8 to 18 knots, a sprint speed of over 20 knots and a range in excess of 600 miles using two 80 HP outboard or inboard diesel engines.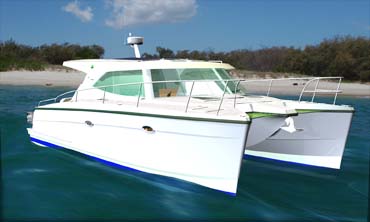 The Argus E35 demonstrates Outback Marine's expertise in the design and implementation of state of the art vessel systems. Electrical energy for vessel systems is generated from solar panels and stored in a 24 volt AGM battery bank. DC power is distributed throughout the vessel using an Empirbus NMEA-2000 based wiring system that saves cable weight and simplifies the electrical system operation. AC power is silently provided by an inverter. A generator set is not required.
Three refrigeration enclosures are generously insulated to conserve energy and a heat pump energy recovery system is used to heat the boat's hot water system by recovering waste heat that would otherwise be thrown overboard. Induction cooking appliances efficiently utilise domestic AC power from the inverter. As a result, LPG is not required on the vessel.
Outback Marine's design and manufacturing capability in dash system implementations is evident at the Argus E35 helm. The functionality of Empirbus membrane style control panels is in balance with "drive-the-boat" rocker switches. Operational ergonomics is a driving factor.
Overall, the Argus E35 experience has given Outback Marine a unique viewpoint by experiencing the roles of both vendor and consumer of vessel systems equipment.