Deka Intimidator - Dual Purpose AGM Batteries
The Deka range of AGM deep cycle batteries with capacities from 55 to 245 amp hour are made in the United States.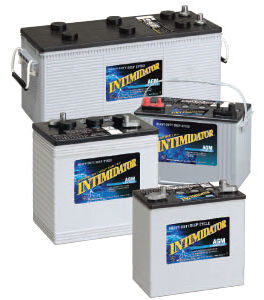 Manufactured in the U.S.A with the highest quality workmanship and materials. Intimidator batteries provide the ultimate combination of quality, performance and price. Formerly branded Deka Seamate.
The Intimidator series offer dual purpose capabilities for crisp engine starting and long deep discharge typical of Marine and RV applications.
Intimidators complete line of AGM (Absorbed Glass Mat) are purpose built for:
4WDs
Caravans
Motorhomes
Marine Craft
Modified Cars
Electric Vehicles
Recreational Power
Power Sports Vehicles
Intimidator batteries have a 1 year replacement warranty.