Optima AGM Batteries
The Optima BlueTop range of heavy-duty deep cycle batteries for marine and RV applications with capacities from 50 to 75 Ah and 750 to 900 CCA.
Optima BlueTop® Dual Purpose Batteries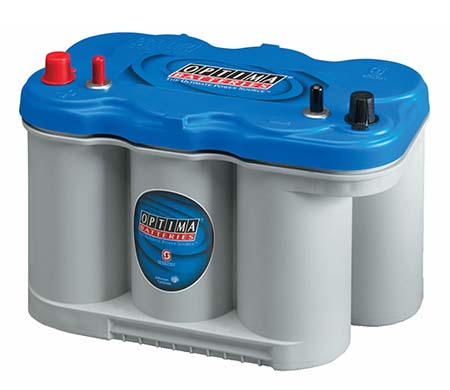 The Blue Top range is purpose built for heavy deep cycle applications typical of Marine and RV situations. While primarily designed as a deep cycle battery, the Blue Top also offers strong cranking power due to the increased plate surface area inherent in the unique spiral cell design. In addition to providing weight savings and outstanding vibration resistance, the Blue Top's ability to deliver efficient power and achieve fast recharge make it the ideal choice for Dual Purpose use in Leisure applications.
The most recognisable battery on the market today, Optima utilise patented Spiral Cell technology to provide huge power output, superb recharge acceptance, absolutely maintenance free spill proof operation, and unrivalled vibration resistance.
BENEFITS OF THE BLUETOP®:
Both dual-purpose and starting applications available
Three times more recharges
More than 15 times the vibration resistance
Virtually spillproof, mountable in virtually any position
Maintenance-free
Optimal starting power (Dual purpose and Starting applications available)
We recommend BlueTop® batteries for all cranking and reserve battery applications.