Inverter Charger
Inverter charger products have double service to charge batteries when power is available and provide 240 volt output when there is no shore power or generator running.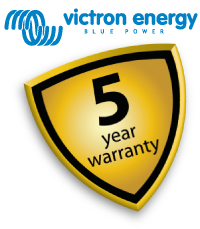 Victron inverter chargers offer a diverse range of products suitable for industrial, mining, marine, caravan and RV applications. A testament to Victron quality and reliability is the Victron 5 year product warranty.
An inverter takes DC (direct current) power from a battery and converts it to an AC (alternating current) form that is the same as power from the grid. A battery charger takes AC power and converts it to DC power suitable for charging the battery. The inverter-charger combines both functions into the one device.
Inverter charger products have design features suitable for fixed off-grid power applications and/or mobile applications such as vehicles, boats and caravans. Power output ranges from a few hundred watts up to 8,000 watts from individual products. Parallel and 3 phase configurations operate at 10's of thousand watts.
Think of a situation where electricity from the grid or a generator is not available or limited in power. Think of boats, mobile homes, trucks, service vans, remote communication systems or off-grid houses. All too often shore power in the marina or on the camping ground is limited and gensets are a headache because of noise, premature failure or frequent maintenance. Victron inverters and inverter-chargers with their unique power-assist function solve these problems. Download "Achieving the Impossible" whitepaper.
Inside the Victron MultiPlus with Johannes Boonstra - Find out how Victron inverter-chargers work.