Balmar AT & XT Series Alternators
Balmar Hairpin Stator AT Series Alternators
Balmar's newest AT-Series alternators are uniquely designed to deliver greater output and higher efficiency than OEM or traditional S-wound aftermarket alternators.
Equipped with the latest technology hairpin stators, 129 mm AT-12-165 and 139 mm AT-12- 200 series alternators deliver more output in a smaller frame size than any competitor's small and mid-case alternators.
AT-Series alternators are designed for use with Balmar's multi-stage Max Charge MC-614 voltage regulators, making it possible for these powerful alternators to provide targeted, customizable charging for a wide range of marine battery technologies. The densely-packed hairpin stator delivers exceedingly impressive low-end output and efficiency nearly 30 percent greater than comparable traditional wound designs.
Rated Alternator Output: 165 Amps (129 mm frame), 200 Amps (139 mm frame)
Charging Voltage(s): 12V/14V
Stator Windings: 96 Slot, square copper wire. Three phase
Rectifier/Diodes: 12 40-Amp non-avalance diodes
Mounting Styles (AT-12-165): 1"single foot (Motorola), 2" single foot (Delco), 3.15" saddle (Hitachi)
Mounting Styles (AT-12-200): 2" single foot (Delco), 3.15"ID saddle (Hitachi), 4"ID saddle (J180)
Terminal Connections: Positive output post, negative output post (ground), AC tap (stator), field input (excite)
Pulley Configurations: Dual 1/2" vee, serpentine polygroove
Voltage Regulation: External P-Type only
Alternator Housings: Advanced powdercoated cast aluminum. High-impact plastic rear cover
One year limited warranty
Image
Part No
Name
Voltage
Mount
Current
Pulley
Price


(inc GST)
BAL.XT-DF-170-DV
Balmar Alternator, XT Series, 170a, 12v, DualFT, 3.15 inch, DualPul, CaseGrd
SKU: BAL.XT-DF-170-DV

12V
3.15 Saddle
170A
Dual
$1,584.70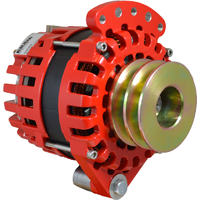 BAL.XT-SF-170-DV
Balmar Alternator, XT Series, 170a, 12v, SingleFT, 1-2 inch, DualPul, CaseGrd
SKU: BAL.XT-SF-170-DV

12V
1-2 Foot
170A
Dual
$1,584.70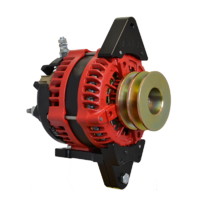 BAL.AT-SF-200-DV
Balmar Alternator, AT Series, 200a, 12v, SingleFT, 1-2 inch, DualPul, IsoGrd
SKU: BAL.AT-SF-200-DV

12V
1-2 Foot
200A
Dual
$2,944.23
BAL.AT-DF-200-DV
Balmar Alternator, AT Series, 200a, 12v, DualFT, 3.15 inch, DualPul, IsoGrd
SKU: BAL.AT-DF-200-DV

12V
3.15 Saddle
200A
Dual
$3,035.54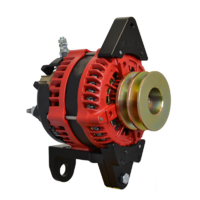 BAL.AT-DF4-200-DV
Balmar Alternator, AT Series, 200a, 12v, DualFT, 4 inch, DualPul, IsoGrd
SKU: BAL.AT-DF4-200-DV

12V
4 J180 Saddle
200A
Dual
$3,035.54 BAL.AT-DF-165-J10-KIT
Balmar KIT, AT 165a DualFT Alternator ,MC Regulator, TSensors, J10Pul
SKU: BAL.AT-DF-165-J10-KIT

$3,200.68