Hydraulic Steering
A good hydraulic steering system requires thorough planning, quality gear and a meticulous installation. Outback Marine exclusively uses Australian manufactured Hydrive equipment. We like it because it is built tough and is fully serviceable. Contact Outback Marine to discuss your system planning.
For Outboards or Sterndrives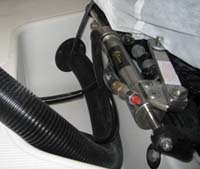 For outboard steering selection, the most important requirement is the amount of room available either side of the outboard motor. Unless you have a pair of very large horsepower motors, any of the kits, from the Sportkit to the powerful OBKIT1 using the 210BH cylinder, can steer your boat. The ultimate decision comes down to a combination of personal preference, your budget, and the amount of engine-well space available. The drawings provide you with the minimum space required for each type of cylinder. Please ensure that the measurement is taken at the narrowest section of your engine well - particularly with tapered wells, as the cylinder tilts down with the motor. Keep in mind however, that for some boats which have plenty of available space, or have the motors mounted on pods, the OBKIT1 using the 210BH cylinder may be the most practical for installation to allow for boarding ladders, ski-ropes, or other obstacles. For Inboard Rudders and Jet Units
Selection of steering for inboard rudders is not as simple as for outboard or sterndrive powered vessels. Each rudder design has it's own characteristics which are affected by vessel speed, propeller diameter/pitch, horsepower, tunnels, nozzles etc and this makes selection a matter of calculation, rather than selecting one model to suit all. There is a questionnaire available which, when completed and forwarded to us gives all information required to calculate the rudder torques on your vessel. Keep in mind that there is no single formula which can take all types of vessel into account.. We need more information than simply the rudder dimensions, to give you peace of mind that the unit recommended will perform safely and correctly.
Dual Stations
Multiple stations are very simple to install and provide the helmsman with instant and light control from any number of steering positions. Ideal for fly bridge, rear deck, or tuna tower consoles, complete Dual Station Kits which include lock valves and all other fittings are available to make your installation very simple indeed.
Autopilots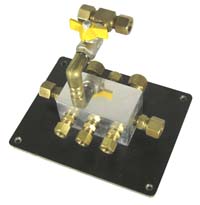 Admiral Series helm units are designed for use with hydraulic autopilots, and have in-built lock valves and balance-line ports to ensure simple and economic installation. The HD Series helm units are also designed for use with hydraulic autopilots and require the fitting of external lock valves (Part No 331C or 318C) to isolate the helm from the pilot pump unit.
If you have inboards, outboards, sterndrives or jets, HyDrive has a fluid-link circuit design that will allow your steering to operate without mechanical tie-rods. Outback Marine has developed a hydraulic manifold block that simplifies installation of this type of system and easily integrate into the autopilot system.
Installation of HyDrive steering equipment is very simple. From the minute you open the box and begin to read the comprehensive instructions, you will find the system has been designed to be installed by even the most inexperienced boating enthusiast, without any hydraulic knowledge. Everything you need is included, right down to the nuts, bolts, and loctite.
Warranty
HyDrive Admiral series units are warranted for a period of 2 years from date of sale. (Sportkit cylinders only and steering on commercial vessels limited to 12 months).