Victron Lithium Battery Packs
Victron LiFeP04 batteries are perfect for AGM or Gel battery replacement in marine, land mobile and off-grid storage applications.
Victron Energy offer 3 models of Lithium batteries.
Peak Power Pack - The Peak Power Pack is a complete substitute for heavy lead acid batteries in applications where high currents occur for a short time. Being primarily meant for caravan movers, it is equipped with a built in charger allowing charging from the vehicle electrical system whilst travelling with the caravan. These are also great as a power pack for weekend camping trips to run your lights and charge your phones.
SuperPack - With an Integrated BMS and safety switch, the SuperPack batteries are extremely easy to install, not needing any additional components so ideal for a drop-in replacement of lead acid batteries.
Smart - Requires the use of an external BMS allowing for a very modular design for your application. The Smart range also offers high continuous current discharge rates so suitable for larger inverter requirements.

Victron has now released a firmware upgrade that improves the cell balancing performance to deliver the highest available capacity. VictronConnect v5.27 & Lithium Smart v1.19
Image
Part No
Name
Nominal Volts
Nominal Capacity
Cont. Draw
Price


(inc GST)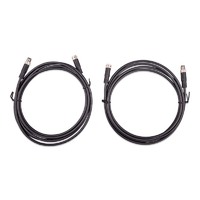 VIC.ASS030560100
Victron M8 circular connector Male/Female 3 pole cable 1m (bag of 2)
SKU: VIC.ASS030560100

-
-
-
$64.91
$58.41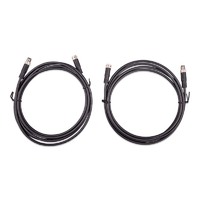 VIC.ASS030560200
Victron M8 circular connector Male/Female 3 pole cable 2m (bag of 2)
SKU: VIC.ASS030560200

-
-
-
$68.20
$61.37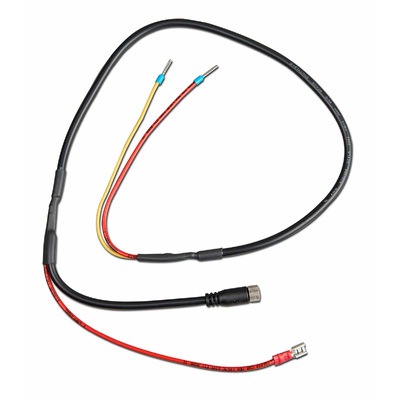 VIC.ASS030510120
Victron VE.Bus BMS to BMS 12-200 alternator control cable
SKU: VIC.ASS030510120

$72.60
$65.33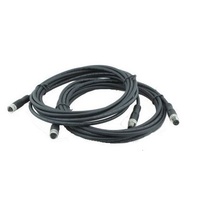 VIC.ASS030560300
Victron M8 circular connector Male/Female 3 pole cable 3m (bag of 2)
SKU: VIC.ASS030560300

-
-
-
$73.71
$66.33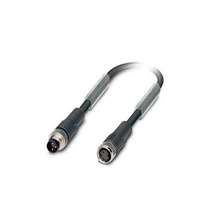 VIC.ASS030560500
Victron M8 circular connector Male/Female 3 pole cable 5m (bag of 2)
SKU: VIC.ASS030560500

-
-
-
$83.60
$75.23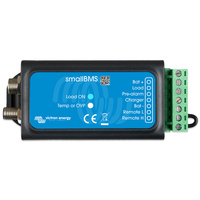 VIC.BMS400100000
Victron miniBMS / smallBMS with pre-alarm
SKU: VIC.BMS400100000

-
-
-
$92.40
$83.15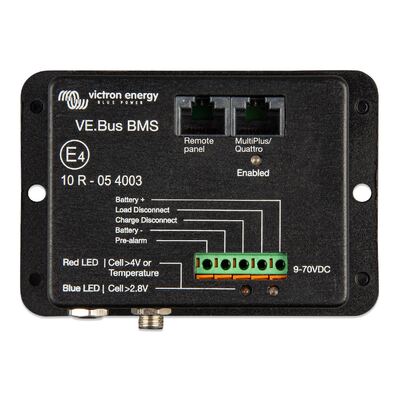 VIC.BMS300200000
Victron VE.Bus BMS
SKU: VIC.BMS300200000

-
-
-
$257.40
$231.63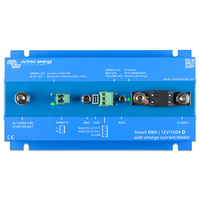 VIC.BMS110022000
Victron Smart BMS CL 12-100
SKU: VIC.BMS110022000

-
-
-
$333.31
$299.95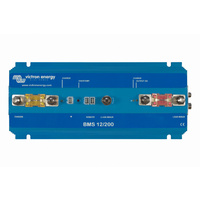 VIC.BMS012201000
Victron Battery Management System BMS 12/200
SKU: VIC.BMS012201000

-
-
-
$403.71
$363.30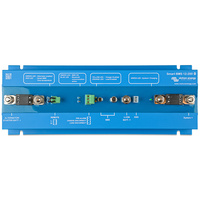 VIC.BMS210055000
Victron Smart BMS 12/200 Battery Management System
SKU: VIC.BMS210055000

-
-
-
$463.09
$416.73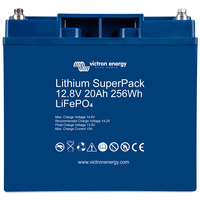 VIC.BAT512020705
Victron Lithium SuperPack Battery 12,8V/20Ah 256Wh LiFePO4 (M5)
SKU: VIC.BAT512020705

12.8V
20Ah
30A
$468.60
$421.69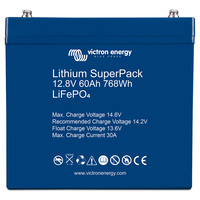 VIC.BAT512060705
Victron Lithium SuperPack Battery 12,8V/60Ah 768Wh LiFePO4 (M6)
SKU: VIC.BAT512060705

12.8V
60Ah
30A
$1,054.91
$949.31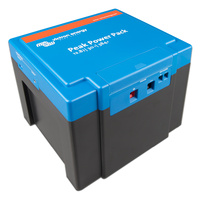 VIC.PPP012030000
Victron Peak Power Pack 12,8V/30Ah - 384Wh
SKU: VIC.PPP012030000

12.8V
30Ah
30A/150A
$1,108.80
$997.81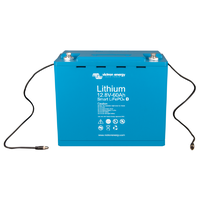 VIC.BAT512060410
Victron Lithium LiFePO4 Battery 12,8V/060Ah Smart
SKU: VIC.BAT512060410

12.8V
60Ah
100A
$1,166.00
$1,049.28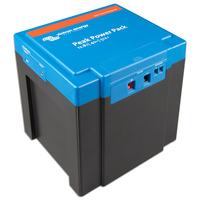 VIC.PPP012040000
Victron Peak Power Pack 12,8V/40Ah - 512Wh
SKU: VIC.PPP012040000

12.8V
40Ah
30A/150A
$1,387.09
$1,248.24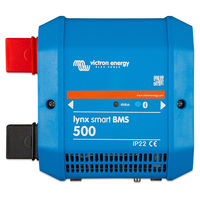 VIC.LYN034160200
Victron Lynx Smart BMS 500
SKU: VIC.LYN034160200

-
-
-
$1,801.80
$1,621.43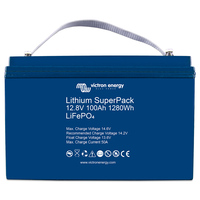 VIC.BAT512110710
Victron Lithium SuperPack Battery 12,8V/100Ah 1280Wh LiFePO4 (M8) High Current
SKU: VIC.BAT512110710

12.8V
100Ah
100A
$1,934.91
$1,741.22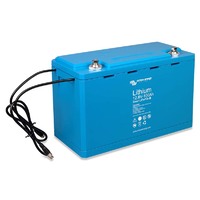 VIC.BAT512110610
Victron Lithium LiFePO4 Battery 12,8V/100Ah Smart
SKU: VIC.BAT512110610

12.8V
100Ah
200A
$2,233.00
$2,009.47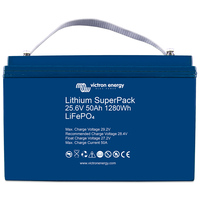 VIC.BAT524050705
Victron Lithium SuperPack Battery 25,6V/50Ah 1280Wh LiFePO4 (M8)
SKU: VIC.BAT524050705

25.6V
50Ah
50A
$2,461.80
$2,215.37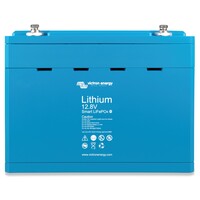 VIC.BAT512116610
Victron Lithium LiFePO4 Battery 12,8V/160Ah Smart
SKU: VIC.BAT512116610

12.8V
160Ah
320A
$3,197.71
$2,877.61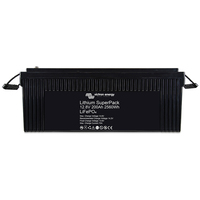 VIC.BAT512120705
Victron Lithium SuperPack Battery 12,8V/200Ah 2560Wh LiFePO4 (M8)
SKU: VIC.BAT512120705

12.8V
200Ah
70A
$3,868.69
$3,481.42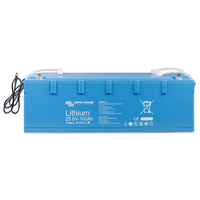 VIC.BAT524110610
Victron Lithium LiFePO4 Battery 25,6V/100Ah Smart
SKU: VIC.BAT524110610

25.6V
100Ah
200A
$3,887.40
$3,498.26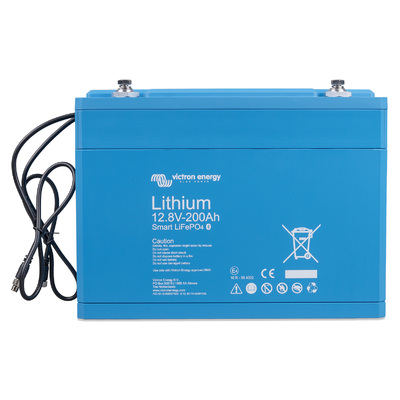 VIC.BAT512120610
Victron Lithium LiFePO4 Battery 12,8V/200Ah Smart
SKU: VIC.BAT512120610

12.8V
200Ah
400A
$3,962.20
$3,565.57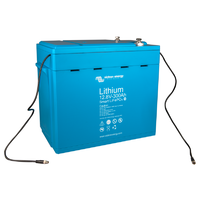 VIC.BAT512130410
Victron Lithium LiFePO4 Battery 12,8V/300Ah Smart
SKU: VIC.BAT512130410

12.8V
300Ah
600A
$5,627.60
$5,064.26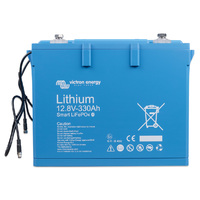 VIC.BAT512132410
Victron Lithium LiFePO4 Battery 12,8V/330Ah Smart
SKU: VIC.BAT512132410

12.8V
330Ah
600A
$6,253.49
$5,627.50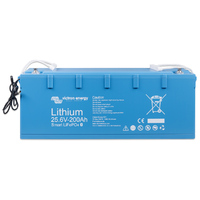 VIC.BAT524120610
Victron Lithium LiFePO4 battery 25,6V/200Ah - Smart-a
SKU: VIC.BAT524120610

25.6V
200Ah
400A
$7,405.20
$6,663.92