Enerdrive ePOWER B-Tec Lithium Batteries
Smart Lithium Battery with Built-in BMS
Available in 12-volt 125Ah and 200Ah capacities, the ePOWER B-TEC lithium battery is designed and intended for use in deep cycle applications where a single battery meets the amp hour capacity and maximum current ratings of the application. The battery has a builtin BMS which means that no external components other than a battery switch and appropriate fuse protection are required.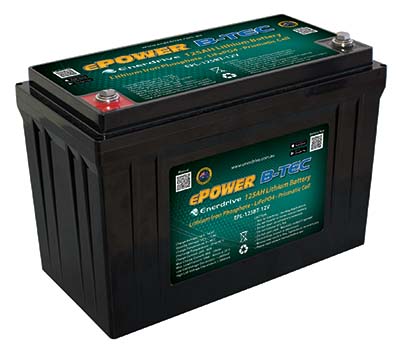 Smart Phone Monitoring System
The Enerdrive ePOWER B-TEC battery incorporates wireless Battery Monitoring Technology. By downloading the Android™ or Apple® app to your smartphone or tablet device, you can monitor battery capacity, voltage, current, state of charge, battery health and more. Find out more about our Battery Monitoring App here Smart Phone Battery Monitoring.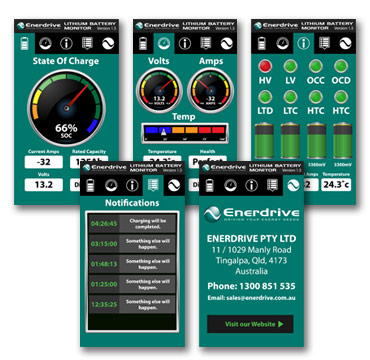 Image
Part No
Name
Nominal Volts
Nominal Capacity
Cont. Draw
Price


(inc GST)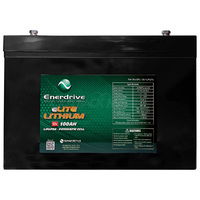 ENE.EPL-100-12V-ELITE
Enerdrive 12v 100Ah eLITE Lithium Battery LiFePO4 Prismatic Cell
SKU: ENE.EPL-100-12V-ELITE

12.8V
100Ah
100A (30 Min)
$1,125.00
$943.00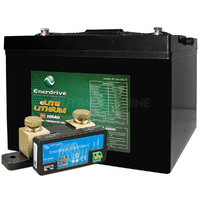 ENE.EPL-100-12V-ELITE_SS5
Enerdrive 12v 100Ah eLITE Lithium Battery LiFePO4 Prismatic Cell with Bluetooth SmartShunt
SKU: ENE.EPL-100-12V-ELITE_SS5

12.8V
100Ah
100A (30 Min)
$1,371.40
$1,103.00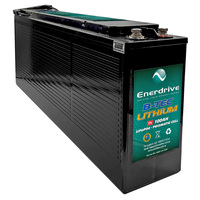 ENE.EPL-100BT-12V-SLIM
Enerdrive B-TEC 100Ah 12V LiFePO4 Slimline Lithium Battery
SKU: ENE.EPL-100BT-12V-SLIM

$1,730.00
$1,389.00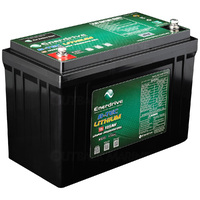 ENE.EPL-125BT-12V
Enerdrive ePOWER 125AH B-TEC Lithium Battery G2 with Flat Battery Reset
SKU: ENE.EPL-125BT-12V

12.8V
125Ah
100A (30 Min)
$2,011.00
$1,686.20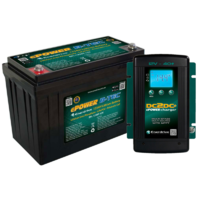 ENE.K-125-BUNDLE
Enerdrive ePOWER 125AH B-TEC Lithium Battery with EN3DC40 DC/DC Charger
SKU: ENE.K-125-BUNDLE

12.8V
125Ah
100A (30 Min)
$2,642.00
$2,214.80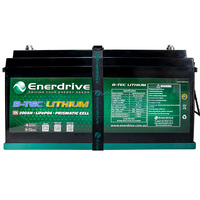 ENE.EPL-200BT-12V-G2
Enerdrive ePOWER B-TEC 200Ah G2 Lithium Battery
SKU: ENE.EPL-200BT-12V-G2

12.8V
200Ah
200A (30 Min)
$3,066.00
$2,499.00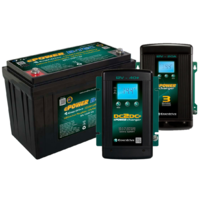 ENE.EPL-125-DC40-AC20
Enerdrive ePOWER 125AH B-TEC Lithium Battery with EN3DC40 DC/DC Charger and 20A Battery Charger
SKU: ENE.EPL-125-DC40-AC20

12.8V
125Ah
100A (30 Min)
$3,136.00
$2,629.30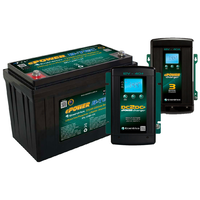 ENE.EPL-125-DC40-AC40
Enerdrive ePOWER 125AH B-TEC Lithium Battery with EN3DC40 DC/DC Charger and 40A Battery Charger
SKU: ENE.EPL-125-DC40-AC40

12.8V
125Ah
100A (30 Min)
$3,281.00
$2,751.30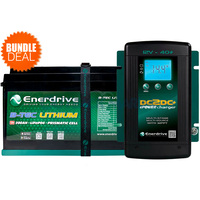 ENE.K-200-DC-BUNDLE-G2
Enerdrive ePOWER B-TEC 200Ah G2 Lithium Battery with EN3DC40+ DC2DC Charger
SKU: ENE.K-200-DC-BUNDLE-G2

12.8V
200Ah
200A (30 Min)
$3,579.00
$3,000.90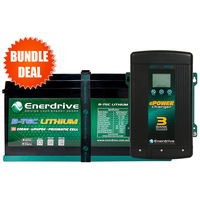 ENE.K-200-AC-BUNDLE-G2
Enerdrive ePOWER B-TEC 200Ah G2 Lithium Battery with 40A Smart Charger
SKU: ENE.K-200-AC-BUNDLE-G2

12.8V
200Ah
200A (30 Min)
$3,766.00
$3,157.80
ENE.EPL-100BT-24V
Enerdrive ePOWER 100AH 24V B-TEC Lithium Battery
SKU: ENE.EPL-100BT-24V

25.6V
100Ah
100A (30 Min)
$4,090.00
$3,349.00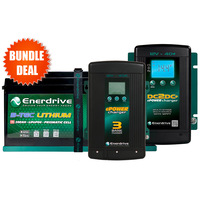 ENE.K-200-DC40-AC40-G2
Enerdrive ePOWER B-TEC 200Ah G2 Lithium Battery with EN3DC40+ DC2DC Charger & 40A AC Smart Charger
SKU: ENE.K-200-DC40-AC40-G2

12.8V
200Ah
200A (30 Min)
$4,286.00
$3,593.80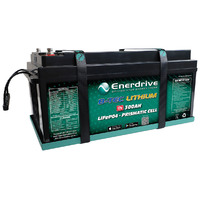 ENE.EPL-300BT-12V-G2
Enerdrive Lithium Battery B-TEC 12V 300Ah G2 LiFePO4 Prismatic Cell
SKU: ENE.EPL-300BT-12V-G2

$4,388.00
$3,771.00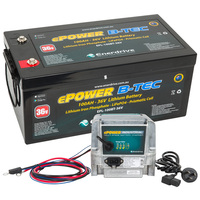 ENE.EPL-100BT-36V
Enerdrive ePOWER 100AH 36V B-TEC Lithium Battery with Battery Charger
SKU: ENE.EPL-100BT-36V

38.4V
100Ah
100A (30 Min)
$4,942.00
$4,143.80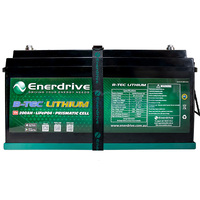 ENE.K-400-PARALLEL-BUNDLE
Enerdrive 400Ah ePOWER B-TEC Bundle (2x 200Ah G2 Lithium Batteries with Parallel Link cables)
SKU: ENE.K-400-PARALLEL-BUNDLE

12.8V
400Ah
200A (30 Min)
$5,879.00
$4,929.90
Enerdrive B-TEC 12v Lithium Battery Technical Data
Normal Specification
EPL-125BT-12V
EPL-200BT-12V
Note: Specifications subject to change without notice.
Nominal Voltage
12.8V
Nominal Capacity
125Ah
200Ah
Cycle Life (DOD – 80% under controlled conditions)
≥ 2000 Cycles
Standard Charge Specification (Lithium profile charger required)
Battery Charge Temperature
0 ̴ 45°C
Normal Charge Voltage CV/CC*
14.40 ̴ 14.60V
Standby (Float) Voltage
13.50 ̴ 13.80V
Maximum Charge Current
60A @ 25°C for 30mins
150A @ 25°C for 30mins
Recommended Charge Current for Maximum Life
≤40A
≤60A
Standard Discharge Specification
Battery Discharge Temperature
-20 ̴ 60°C
Battery Output Voltage Range
11.00 ̴ 14.60V
Maximum Discharge Current
100A @ 25°C ± 5°C for 30mins
200A @ 25°C ±5°C for 30mins
Pulse Discharge Current
450A for 1.0s
Discharge Cut-off Voltage
≤11.20V
Circuit Protection

The battery is supplied with a LiFePO4 Battery Management System BMS that can monitor and optimize each single prismatic cell during charge & discharge, to protect the battery pack from overcharge, over discharge & short circuit. Overall, the BMS helps to ensure safe and accurate operation of the battery.

Over-Charge Protection
Over-charge Protection Per Cell
3.90V ± 0.03V
Over-charge Release Per Cell
3.60V ± 0.05V
Over-charge Release Method
Discharge below release voltage
Over-Discharge Protection
Over-discharge Protection Per Cell
2.80V ± 0.05V
Over-discharge Release Per Cell
3.20V ± 0.05V
Over-discharge Release Method
Apply Charge/Voltage ≥12.8V
Over Current Protection
Discharge Over Current
110A for 30s – 450A for 1s
220A for 30s – 450A for 1s
Protection Reset Time
5s Auto Release
Over Current Release Method
Disconnect Load
Over Temperature Protection
Battery Discharge Over Temperature
Protection to 65°C ± 5°C
Release at 50°C ± 5°C
Battery Charge Over Temperature
Protection to 55°C ± 5°C
Release at 45°C ± 5°C
Short Circuit Protection
Auto release after 5s
Mechanical Characteristics
Dimensions
Length 318mm
485mm
Width 165mm
170mm
Height 215mm
245mm
Weight
Approx 15.0 Kg
Approx 25.0 Kg
Storage Information
Temperature & Humidity Range
≤ 30 days -20°C ̴ 35°C, 45 ̴ 75% RH
≥ 30 days -10°C ̴ 30°C, 45 ̴ 75% RH
Self-discharge Rate
≤ 3% Per Month