Midnite Solar Classic MPPT Controllers
Output current up to 96A with panel Voc voltages in excess of 250 volts provide the greatest flexibility in panel string arrangement.
More Flexibility and Features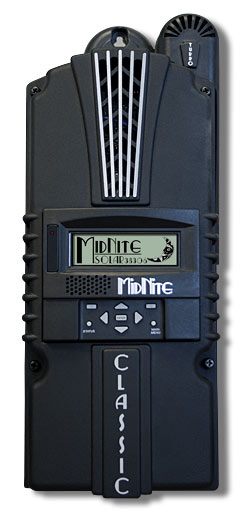 The Classic 150 charge controller from MidNite Solar offers significantly more flexibility, features and range than other MPPT charge controllers. Designed to regulate DC input from a wide variety of sources including solar PV, micro hydro and wind turbines, the Classic 150 is the only MPPT controller that has Arc Fault Detection, making it the safest controller available. The Classic 150 works with 12, 24, 36, 48, 60 and 72 volt battery banks, and can be installed stand-alone or as a multi-unit networked installation.
Past MPPT controllers have been limited to a maximum of 150 VDC. Midnite's Classic offers 150, 200 or 250 VDC, accommodating larger string sizes and higher voltage panels. Built-in string sizing and battery bank capacity sizing are available to streamline your design process. A help mode and set up wizard help you through the learning curve.
12V to 72V Nominal Battery Charging
Built-in Ground Fault and Arc Fault Protection
Internet Ready Via Ethernet
Additional Communication Via RS232 and USB
Display can be removed and mounted up to 300 metres away
Remote and local displays possible
20 Megabytes of Data Logging Storage
Remote Monitoring Via Internet
Supports up to 2 displays
Comes With a Battery Temperature Sensor
5 Year Manufacturer's Warranty
Made In The USA!
A built-in safety measure, the arc fault detector, guards your system from threat of fire. Two auxiliary outputs allow you to divert excess power to other applications such as battery box vents or generator starting.
Midnite Solar's Classic Charge controller works with wind, solar and hydropower systems. Wind or hydropower systems actually yield up to 50 to 250 percent more power with the "Classic".
Another significant advance with the Classic is the ability to access your power system remotely via the internet. If you're out of town, you can call in to the system to troubleshoot problems, and get it back in working order. If you have plenty of excess power, you can even turn on the snow-melting feature while you're away. Remote control of Midnite power systems will be invaluable for installers, dealers and homeowners alike.
MidNite Solar has taken the guesswork out of setting up your system by implementing a set up wizard with voice prompts. The wizard can help walk you through battery hook up, PV array sizing and hook up, wind turbine program selection, wire sizing, breaker selection, PV combiner selection, sunrise and sunset program set up and voltage drop calculations.
Features
HyperVOC mode (add the battery voltage to the operating voltage for VOC rating)
Solar, Wind and Hydro MPPT modes
Get 50-250% more power from hydro and wind turbines
Learning mode for Solar, Wind and Hydro
User programmable for most all battery charging wind turbines (may require the Clipper)
Built in string sizing and battery sizing programs
Built in voltage drop calculator for PV wiring in AWG and Metric
Knows when sun up and sundown are to take place anywhere in the world
Secure data monitoring and logging
Snow melting mode automatic or manual local or over the internet
Arc fault detector reduces threat of fire (not included on lower cost Classic-Lite)
Built in DC-GFP without the hassle of fuses
Graphics display panel - (not included on lower cost Classic-Lite)
USB port for uploading firmware updates and data logging to a PC or Mac
Graphics display turns into an oscilloscope
Battery voltage supported up to 72 for the Classic150, 200 and 250.
Two aux outputs: 1 dry contact relay and one 12v output/ input
32 megabytes of onboard storage
Snap on covers and hole plugs allow sealed or vented operation
Classic Range
Model
Classic 150
Classic 200
Classic 250
Operating Volts In
150VDC
200VDC
250VDC
*Max Hyper VOC
150+ battery
200+ battery
250+ battery
Nominal Battery Volts
12-72
12-72
12-72
Absolute Current Output at 25° C

93a@12v battery

94a @ 24v battery

83a @ 48v battery

74a @ 12v battery

70a @ 24v battery

65a @ 48v battery

60a @ 12v battery

62a @ 24v battery

55a @ 48v battery

De-Rate Current @ 40° C
80 amperes
60 amperes
52 amperes
Environment
-40° C to 40° C
Classic Dimensions
378 mm x 151 mm x 102 mm
Boxed Dimensions
378 mm x 151 mm x 102 mm
Shipping Weight
4.9 kg

NOTE: Current output ratings were measured with 75% of the PV array's VOC (Open Circuit Voltage)
*NOTE: Calculated by adding battery voltage to the maximum input operating voltage (48V battery max)