Manual Battery Switches
Battery switches isolate the potentially destructive energy in the battery banks when the boat is not in use or during emergencies. They are available in different configurations according to the application.
These are familiar to most boaters as a large, usually red switch with a round face and prominent knob. The 4-position selector switch has long been the industry standard for managing the selection and charging of two battery banks. Blue Sea Systems has three families of manual battery switches.
The compact m-Series is rated at 300A continuous and is ideal for outboard motors or small inboard engines.
The standard e-Series has a 350A continuous current rating and is a popular replacement switch.
The heavy-duty HD-Series can carry up to 600A of continuous current, making it an excellent choice for boats with large diesel engines.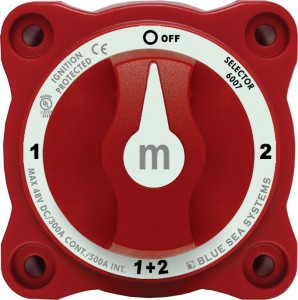 Some switches have an auxiliary contact called an AFD (for Alternator Field Disconnect) which is used to disable the alternator field whenever the switch is turned to an open position. Otherwise, the alternator diodes are susceptible to damage by "cutting" the charge current to the battery.
M-Series Battery Switch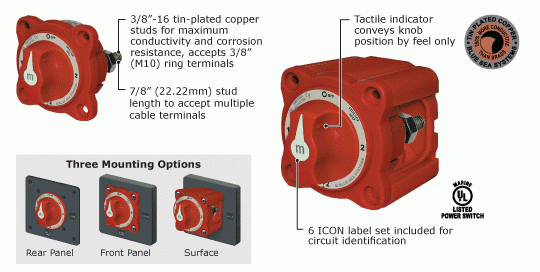 Features
300 Ampere continuous rating for outboards and small petrol or diesel engines
Ignition protected—safe for installation aboard gasoline powered boats
Case design allows surface, front panel, or rear panel mounting
Isolating cover with snap-on sections protects rear contacts

E-Series Battery Switch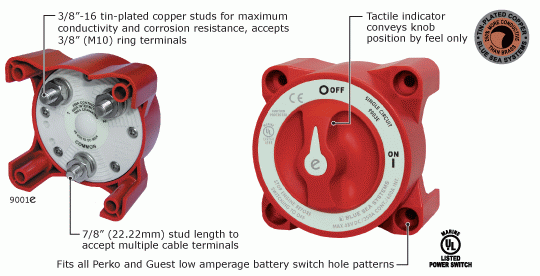 Features
350 Ampere continuous rating for inboard petrol or diesel engines
Ignition protected—safe for installation aboard gasoline powered boats
Case design allows surface or rear panel mounting
Meets American Boat and Yacht Council (ABYC) requirements for battery switches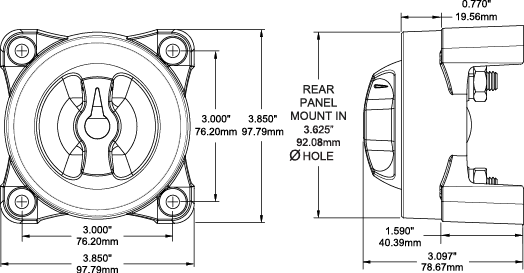 HD-Series Battery Switch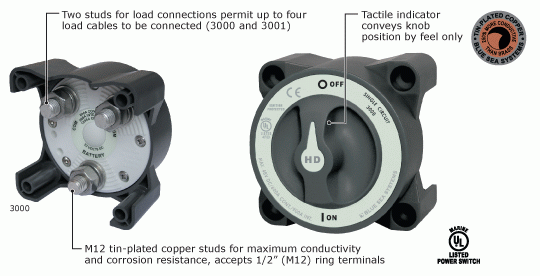 Features
Up to 600 Ampere continuous rating for large diesel engines
Meets American Boat and Yacht Council (ABYC) requirements for battery switches
Ignition protected—safe for installation aboard gasoline powered boats
Case design allows surface or rear panel mounting
Accepts two 4/0 AWG (95mm²) battery cables