Victron Quattro
The Quattro inverter charger connects to two independent AC sources, for example shore power and generator. The Quattro will automatically connect to the active source.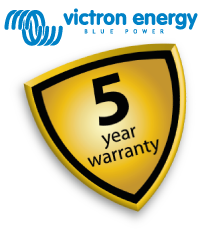 High Output power
Quattro inverter chargers are available in 3kVA, 5kVA, 8kVA and 10kVA models with battery voltages ranging from 12 to 48 volts.
Two AC inputs with integrated transfer switch
The Q uattro can be connected to two independent AC sources, for example shore-side power and a generator, or two generators. The Quattro will automatica lly connect to the active source. When a source is not availa ble, the inverter can take over.
Two AC Outputs
The main output has no-break functionality. In the event of a grid failure, or shore or generator power being disconnected, the Quattro takes over the supply to the connected loads. This happens so fast (less than 20 milliseconds) that computers and other electronic equipment will continue to operate without disruption. The second output is live only when AC is available on one of the inputs of the Quattro. Loads that should not discharge the battery, such as air-conditioning or a water heater can be connected to this output.
Unique PowerAssist feature
The Quattro will prevent overload of a limited AC source. First, battery charging will automatically be reduced when otherwise an overload would occur. The second level will boost the output of a generator or shore side supply with power taken from the battery.
Parallel Operation
Up to 6 Quattro's can operate in parallel to achieve higher power output. Three phase or split phase operation is also possible.
Image
Part No
Name
AC
Battery
Charge Amps
Price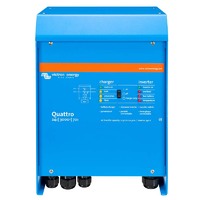 VIC.QUA243020010
Victron Quattro 24/3000/70-50/50 230V VE.Bus
SKU
VIC.QUA243020010
230VAC 50Hz
24V
70A
$3,685.00
$2,887.50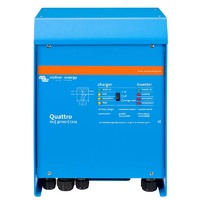 VIC.QUA123020010
Victron Quattro 12/3000/120-50/50 230V VE.Bus
SKU
VIC.QUA123020010
230VAC 50Hz
12V
120A
$3,877.50
$3,038.30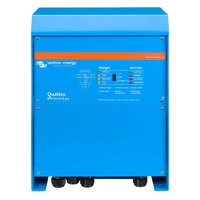 VIC.QUA485021010
Victron Quattro 48/5000/70-100/100 230V VE.Bus
SKU
VIC.QUA485021010
240VAC 50Hz
48V
70A
$4,544.10
$3,560.70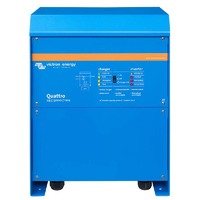 VIC.QUA245021010
Victron Quattro 24/5000/120-100/100 230V VE.Bus
SKU
VIC.QUA245021010
240VAC 50Hz
24V
120A
$5,049.00
$3,956.30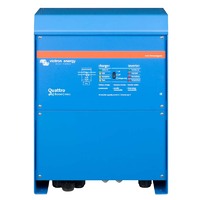 VIC.QUA488024000
Victron Quattro 48/8000/110-100/100 230V VE.Bus Inv./Ch.
SKU
VIC.QUA488024000
240VAC 50Hz
48V
110A
$5,838.80
$4,575.20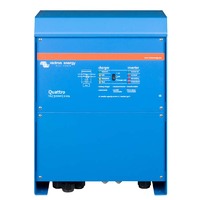 VIC.QUA125020000
Victron Quattro 12/5000/220-100/100 230V VE.Bus
SKU
VIC.QUA125020000
240VAC 50Hz
12V
220A
$6,039.00
$4,732.10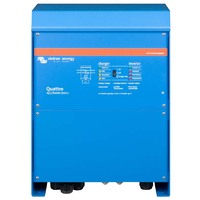 VIC.QUA248020010
Victron Quattro 24/8000/200-100/100 230V VE.Bus
SKU
VIC.QUA248020010
240VAC 50Hz
24V
200A
$6,372.30
$4,993.20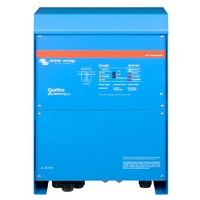 VIC.QUA481030010
Victron Quattro 48/10000/140-100/100 230V VE.Bus
SKU
VIC.QUA481030010
240VAC 50Hz
48V
140A
$6,977.30
$5,467.30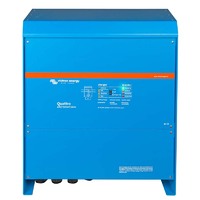 VIC.QUA483150000
Victron Quattro 48/15000/200-100/100 230V VE.Bus Inv./Ch.
SKU
VIC.QUA483150000
240VAC 50Hz
48V
200A
$9,650.30
$7,561.80
System Operation - Victron Quattro
The Quattro employs two AC inputs - shore power and generator. Either input can bring power into the Quattro. The generator input has priority over the shore power input. When either the shore power or generator input is active, power is transferred through the Quattro to AC outputs 1 and 2. If no input power is available, the invert provides power only to ACout1. ACout2 then is reserved for loads that are only powered up from the Genset or Shore power.
Note that when power is available from the inverter, input power sources are completely isolated and an MEN connection is made internally between Neutral and Earth. When either Genset or Shore power is active, the MEN link is inherited from the external power source.
If the load demand on the output is greater than what the shore power or genset input can provide, a programmable Power Assist function can borrow power from the inverter to increase the total available power. If a small generator was running, this "generator support" capability is ideal for handling higher startup loads that would otherwise stall the generator - for example air conditioning systems.