Discover Lithium Batteries
Discover® LITHIUM BLUE LiFePO4 Premium Series batteries offer BMS-controlled safety, long life, lightning-fast charging performance and real-time Bluetooth access to battery State of Charge, voltage, current, and temperature status. LITHIUM BLUE batteries reflect Discover's Design for Excellence philosophy, incorporating suitcase-style carrying handles, terminal protection and field serviceable fuses. LITHIUM BLUE batteries are safe, easy to install and parallel for more capacity.
Discover Lithium BLUE Benefits and Features
Lithium BLUE batteries charge faster, last longer, run longer, and are lighter weight than traditional lead-acid batteries. They have a carry handle, are easy to install, require no special tools, and feature a user-replaceable fuse.
Bluetooth App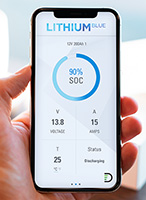 LITHIUM BLUE LiFePO4 batteries feature a Discover Bluetooth® App that gives real-time access to battery State of Charge, voltage, operating current, temperature, and other operating information.