Enerdrive ePOWER 125AH B-TEC Lithium Battery G2 with Flat Battery Reset
Enerdrive ePOWER 125-amphour B-TEC Lithium Battery with internal BMS, Flat Battery Reset and Bluetooth battery management app.
Availability:
SKU:

ENE.EPL-125BT-12V

Nominal Volts: 12.8V
Nominal Capacity: 125Ah
Cont. Draw: 100A (30 Min)
Manufacturer:

Enerdrive

MPN:

EPL-125BT-12V-G2

Shipping Weight:

15.00kg
---
---
Insurance
All shipments are covered for loss or damage while in transit up to the point of delivery to the nominated shipping address. Insurance does not cover goods left on your premises under your instruction.
Enerdrive ePOWER 125-amphour B-TEC Lithium Battery with internal BMS, Flat Battery Reset and Bluetooth battery management app.
Battery Management System
The battery is equipped with an internal Battery Management System that can monitor and optimise each Prismatic cell within the battery during normal operation. It will protect the battery pack from over charge, over discharge, over temperature & short circuit. The BMS helps to ensure safe and accurate operation of the battery. New to the Gneration 2 version of the Enerdrive B-TEC 125Ah LiFeP04 Prismatic Cell is the Flat Battery Reset to help you recover from times when you might discharge the BMS below the cut-off point.

Size & Weight Savings
Lithium v AGM Capacities;
100Ah Lithium = 160Ah AGM
125Ah Lithium = 200Ah AGM
200Ah Lithium = 360Ah AGM
(Based on standard depth of discharge for both Lithium (80%) and AGM (50%).

The ePOWER B-TEC battery provides 60% more usable power than its equivalent lead acid cousin and being nearly 50% lighter and 30% smaller makes for a superior alternative.

The ePOWER B-TEC battery is perfect for camper trailers, 4WD's (AUX battery), caravans, small water craft, low power communication sites or any other application that requires the use of a single deep cycle battery that meets the amp hour capacity.

Smart Phone Monitoring System
The Enerdrive ePOWER B-TEC battery incorporates bluetooth Battery Monitoring Technology. By downloading the Android™ or Apple® app to your smartphone or tablet device, you can monitor the following information: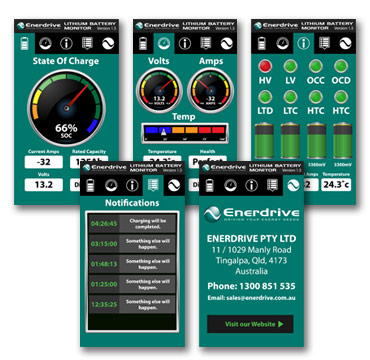 Battery Capacity
Battery Voltage
Battery Current (Amps)
Battery State of Charge (SOC)
Battery State of Health (SOH)
Battery Status
Individual Cell Voltage
Battery Temperature
Battery Cycles
Battery Alarms
Battery Event Information
Purchase with confidence knowing your product is covered by the Enerdrive 5 Year Manufacturer Warranty.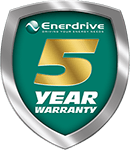 Enerdrive B-Tec Battery Brochure
Enquiry Form
Be The First To Review This Product!
Help other Outback Marine Australia Pty Ltd users shop smarter by writing reviews for products you have purchased.