94LY Series (Saddle Mount) Alternators
Balmar 94LY Series Marine Alternator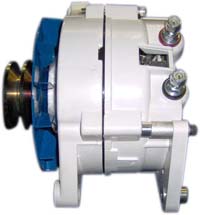 Designed to be compatible with Yanmar's 6LY3 engine and other engines using a Hitachi-style saddle mount and dual vee belts, 94LY alternators feature custom wound stators, extra heavy diodes ad a clocked case which provides improved access to all terminal connections.
Balmar's 94LY-Series, large case alternators deliver the size and charging output required to support battery banks of up to 800 amp hours at 12 volts or 400 amp hours at 24 volts. Designed expressly for use on Yanmar 6LY diesel engines, these 12-volt and 24-volt alternators are engineered for use with external multi-stage voltage regulation, making it possible to tailor charging voltage to maximize safety and efficiency when replenishing a wide variety of battery types.
Included in the 94LY-Series alternator family are: 165-amp/12-volt; 210-amp/12-volt; and 140-amp/24-volt models. All models meet U.S. Coast Guard Title 33 standards for ignition protection.
Bi-directional cooling fan.
Isolated ground terminal.
Maximum 6,500 RPM.
Corrosion-resistant powdercoat.
Meets USCG Title 33 standards for ignition protection.
1-year limited warranty.
ShWt. 10KG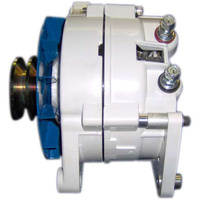 Balmar Alternator, 94 Series, 140a, 24v, Yanmar6LY MT w/Hard
SKU: BAL.94LY-24-140-IG
RRP $3,072.11 $2,557.50
View Details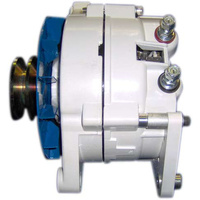 Balmar Alternator, 94 Series, 210a, 12v, Yanmar6LY MT w/Hard
SKU: BAL.94LY-12-210-IG
RRP $3,072.11 $2,557.50
View Details