Balmar 98 Series Alternator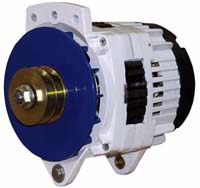 Balmar 98 Series Alternator available in 310A/12V and 220A/24V models, the 98-Series alternator adds dual fans for enhanced cooling, high amperage diodes for efficient voltage rectification, over-sized shaft and pulley bearings for smoother, quieter operation, and brushless excitation for longer wear, reduced electrical noise and greater ignition protection.
Isolated Ground Terminal
Brushless design
D+ Lamp Circuit
External Regulation
Maximum RPM: 6,500
Meets USCG Title 33, CE, SAE 8846 and ISO J-1171 standards for ignition protection.
Durable powdercoat finish.
1-year limited warranty.
ShWt 21 KG.
Balmar Alternator, 98 Series, 220a, 24v, SaddleMT, 4 inch, DualPul, IsoGrd, Brushless
SKU: BAL.98-24-220-IG-BL
RRP $9,687.63 $6,059.49
View Details
Balmar Alternator, 98 Series, 310a, 12v, SaddleMT, 4 inch, DualPul, IsoGrd, Brushless
SKU: BAL.98-12-310-IG-BL
RRP $9,687.63 $6,059.49
View Details