Victron SmartSolar MPPT 250/60-Tr Bluetooth Solar Charge Controller
Victron SmartSolar 150 VOC, 60 Amp MPPT solar panel charge controller for 12V, 24V, 36V and 48V battery systems (including Lithium) with Bluetooth.
Availability:
SKU:

VIC.SCC125060221

Battery: 12/24/36/48V
Max Voc: 250V
Charge Current: 60A
Manufacturer:

Victron

MPN:

SCC125060221

Shipping Weight:

3.60kg

---
---
Insurance
All shipments are covered for loss or damage while in transit up to the point of delivery to the nominated shipping address. Insurance does not cover goods left on your premises under your instruction.
Related Products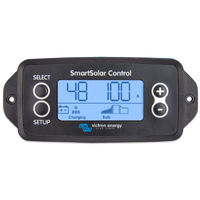 VIC.SCC900650010
$70.00 24% OFF RRP $92.00
Victron SmartSolar 150 VOC, 60 Amp MPPT solar panel charge controller for 12V, 24V, 36V and 48V battery systems (including Lithium) with Bluetooth.
MPPT 250/60 up to 250/100
MPPT controllers operate solar panels at their Maximum Power Point improving efficiency up to 30% by adjusting input voltage to harvest the maximum power from the solar panels. It then manages this power to supply the varying voltage requirement of the battery plus load.
The MPPT senses when to adjust the output that it is being sent to the battery and will shut down for a few microseconds, calculate and make relevant adjustments. The principle of MPPT is to extract the maximum possible power from a solar panel by setting the most efficient combination of voltage and current - maximum power point.
The Victron MPPT SmartSolar support Advanced Maximum Power Point Detection. Unlike the conventional MPPTs which tend to lock to a local MPP when shady conditions occur, [which may not be the optimum MPP], Advance Maximum Power Point Detection will harvest maximin energy by locking to the optimum MPP.
Internal temperature sensor provides additional electronic protection
Over-temperature protection and power derating when temperature is high.
PV short circuit and PV reverse polarity protection.
PV reverse current protection.
Other features:
With no cooling fan the maximum efficiency exceeds 98%.
Flexible charge algorithm provides functionality for fully programmable charge algorithm, and eight pre-programmed algorithms, selectable with a rotary switch
Remote on-off [To connect for example to a BMS]
Programmable relay to set the device to trip on alarm or other events
Optional SmartSolar pluggable LCD display
Built-in Bluetooth along with the VictronConnect App provides easy access to the extensive range of functions available on your solar charge controller such as:
Solar Gauge – Realtime power output
Battery Voltage
Battery Current
Battery State
History Analysis
Various Settings
Victron MPPT model names explained
MPPT 250/60, the first number is the maximum PV open circuit voltage. The second number, 60, is the maximum charge current. Use the Victron MPPT Excel sheet or Online MPPT Calculator for PV sizing calculations.
For more information about PWM or MPPT charge controllers, read the Victron whitepaper: which solar charge controller: PWM or MPPT?
Purchase with confidence knowing your product is covered by the Victron 5-year manufacturer warranty.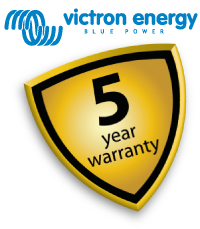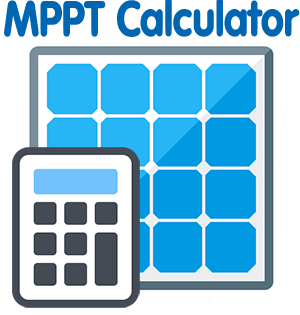 MPPT 150/45 up to 150/100 Specifications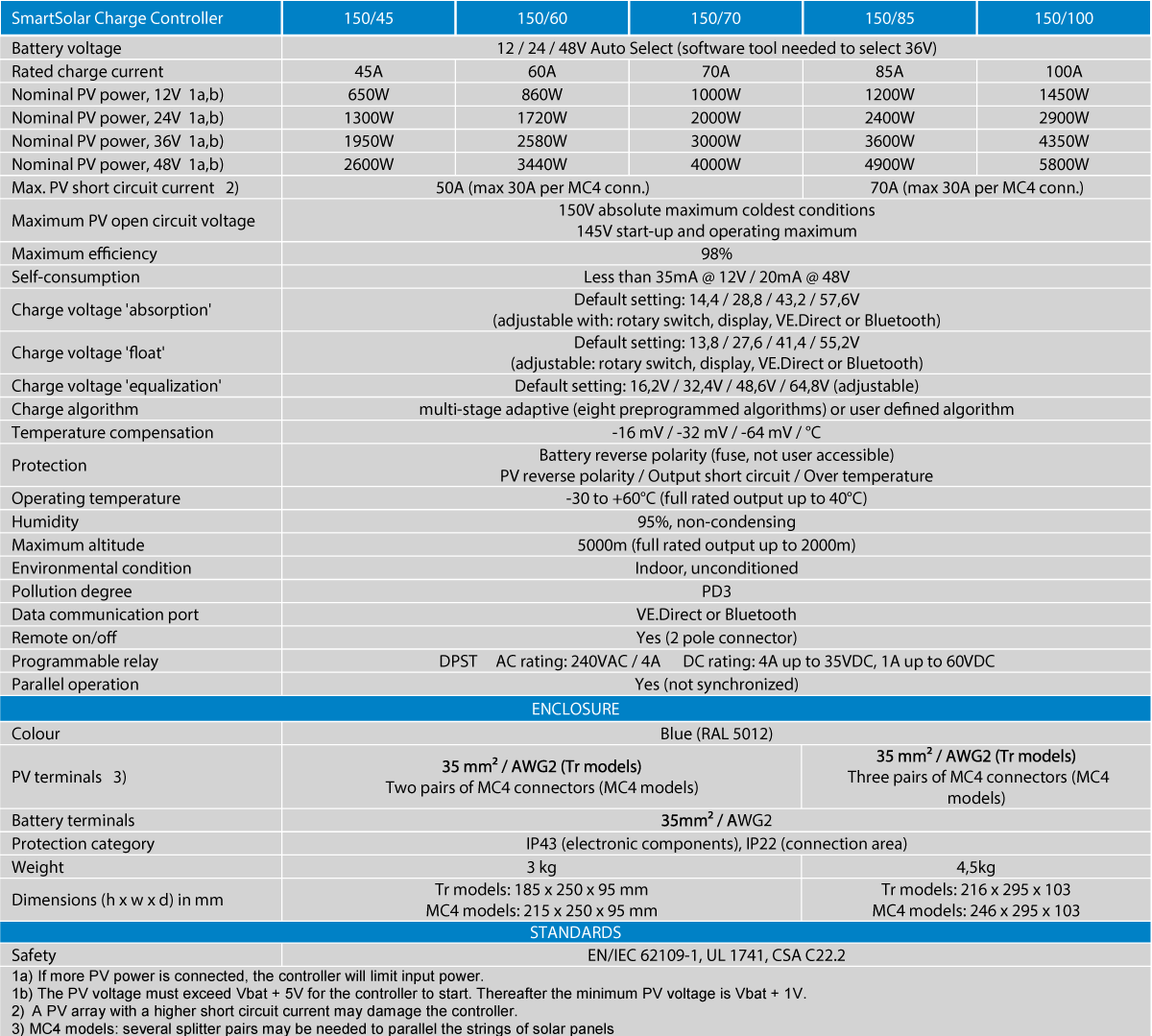 Enquiry Form
Be The First To Review This Product!
Help other Outback Marine Australia Pty Ltd users shop smarter by writing reviews for products you have purchased.