Marine Electrical System Design
The design of a boat or yacht electrical system embodies the selection of equipment that as a whole meets the performance objectives and requirements of the vessel operator.
Vessel electrical systems range in complexity from a simple single battery system as found on an outboard motor powered trailer boat to relatively complex systems using multiple battery banks with sophisticated AC and DC power distribution arrangements. The examples listed below showcase some vessel electrical system design and supply jobs that we have undertaken.
A marine electrical system design starts with a thorough understanding of the vessel and its intended use. This requires an analysis of the vessel plans or layout, documentation of the on board equipment and discussion with the owner/builder about vessel objectives and use case expectations.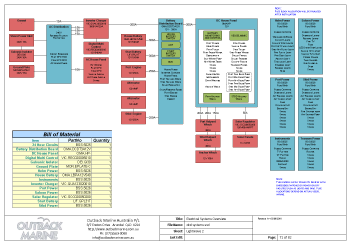 Outback Marine has implemented a design process that documents the overall electrical system requirements of the particular vessel or vehicle. For a nominal fee, Outback Marine provides a System Diagram of the electrical system that clearly identifies the electrical system architecture, electrical equipment items and circuits required.
This document identifies all substantial elements of the system and lists them as a bill of materials. In addition to defining electrical loads, the device list forms the basis of specifying and costing the electrical panels. Once agreed at the system level, a detailed quotation for the equipment required to provision the project can be established.
All products supplied by Outback Marine are fully documented so that a qualified person is equipped with sufficient information to install the system. Outback Marine staff are available for advice and/or the provision of detailed schematics for an additional consulting fee if required. We can also introduce local electrical contractors to install the equipment if required.
Systems for commercial survey vessels require special attention over and above leisure vessels to ensure that survey compliance is met. Outback Marine is experienced in this area including the design and provisioning of compliant schematics. We choose to keep at arms length however when it comes to the actual electrical survey and accordingly recommend a third party qualified surveyor to approve the installed system.
Our clients get a system that works as intended and one that is documented so that any problems that might be encountered in the future can be readily diagnosed. We expect that our installed systems are very economical when total cost of ownership is considered.
Out Chasing Stars
For an in-depth customer review of the Outback Marine lithium battery energy system, take a look at the Replacing AGM Batteries with Lithium-Ion on a Boat blog post.
Recommended Reading
Electrical System Design explores methods of power generation, distribution and energy storage for liveaboard cruising boats. Discover a design approach that properly defines the required system.

Lithium Battery Systems (including AGM batteries) highlights the need for a systems approach that includes power distribution, management and control as part of the battery installation.
If you would like to pursue a system design with Outback Marine, please make an enquiry on our Contact Us page and select System Design.