Enerdrive ePOWER 100AH 36V B-TEC Lithium Battery with Battery Charger
Enerdrive ePOWER 100AH 36V B-TEC Lithium Battery with internal BMS and Bluetooth battery management app.
Availability:
SKU:

ENE.EPL-100BT-36V

Nominal Volts: 38.4V
Nominal Capacity: 100Ah
Cont. Draw: 100A (30 Min)
Manufacturer:

Enerdrive

MPN:

EPL-100BT-36V

Shipping Weight:

38.00kg
---
---
Insurance
All shipments are covered for loss or damage while in transit up to the point of delivery to the nominated shipping address. Insurance does not cover goods left on your premises under your instruction.
Enerdrive ePOWER 100AH 36V B-TEC Lithium Battery with internal BMS and Bluetooth battery management app.
ePOWER B-TEC LiFeP04 36v 100Ah Lithium Battery with 36V ePOWER Industrial Battery Charger
The ePOWER B-TEC lithium battery is designed and intended for use in deep cycle applications where a single battery is required that meets the amp hour capacity.
Smart Phone Monitoring System
The Enerdrive ePOWER B-TEC battery incorporates wireless Battery Monitoring Technology. By downloading the Android™ or Apple® app to your smartphone or tablet device, you can monitor the following information:
Battery Capacity
Battery Voltage
Battery Current (Amps)
Battery State of Charge (SOC)
Battery State of Health (SOH)
Battery Status
Individual Cell Voltage
Battery Temperature
Battery Cycles
Battery Alarms
Battery Event Information

Battery Management System
The battery is also equipped with an internal Battery Management System that can monitor and optimise each Prismatic cell within the battery during normal operation. It will protect the battery pack from over charge, over discharge, over temperature & short circuit. The BMS helps to ensure safe and accurate operation of the battery.

Size & Weight Savings
Lithium v AGM Capacities
100Ah Lithium = 160Ah AGM
125Ah Lithium = 200Ah AGM
200Ah Lithium = 320Ah AGM
(Based on standard depth of discharge for both Lithium (80%) and AGM (50%).
The ePOWER B-TEC battery provides 60% more usable power than its equivalent lead acid cousin and being nearly 50% lighter and 30% smaller makes for a superior alternative.
The ePOWER B-TEC battery is perfect for camper trailers, 4WD's (AUX battery), caravans, small water craft, low power communication sites or any other application that requires the use of a single deep cycle battery that meets the amp hour capacity.
Please Note; The ePOWER B-TEC battery is capable to be paralleled to a second ePOWER B-TEC battery of the same size. For maximum performance and lifespan of your ePOWER B-TEC battery, no more than 2 batteries should be connected together to increase your overall capacity. Overall loads when paralleled should not exceed the current limits of a single batteries BMS.
The 100Ah battery is able to accept a maximum inverter capacity of 1000W only. Exceeding the maximum inverter capacity can damage the BMS Management within the battery.
36V/20A ePOWER Industrial Battery Charger Included
Extremely Durable.
A fully sealed die cast aluminum enclosure protects the charger from fluids and other contaminants. The design of the charger enclosure mirrors the internal components, protecting against shock and vibration. (IP67 if using AC input seal).
ePOWER Industrial Battery Charger User Manual Rev: 1.4
Purchase with confidence knowing your product is covered by the Enerdrive 5 Year Manufacturer Warranty.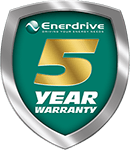 Enerdrive B-Tec Battery Brochure
Enerdrive B-TEC 36v Lithium Battery Technical Data
Normal Specification
EPL-100BT-36V
Nominal Voltage
38.4V
Nominal Capacity
100Ah
Cycle Life (DOD – 80% under controlled conditions)
≥ 2000 Cycles
Standard Charge Specification (Lithium profile charger required)
Battery Charge Temperature
0 ̴ 45°C
Normal Charge Voltage CV/CC*
43.20 ̴ 43.80V
Standby (Float) Voltage
40.5 ̴ 41.40V
Maximum Charge Current
50A @ 25°C for 30mins
Recommended Charge Current for Maximum Life
≤33A
Standard Discharge Specification
Battery Discharge Temperature
-20 ̴ 60°C
Battery Output Voltage Range
33.00 ̴ 43.80V
Maximum Discharge Current
100A @ 25°C ± 5°C for 30mins
Pulse Discharge Current
450A for 1.0s
Discharge Cut-off Voltage
≤33.60V
Circuit Protection
The battery is supplied with a LiFePO4 Battery Management System BMS that can monitor and optimize each single prismatic cell during charge & discharge, to protect the battery pack from overcharge, over discharge & short circuit. Overall, the BMS helps to ensure safe and accurate operation of the battery.
Over-Charge Protection
Over-charge Protection Per Cell
3.90V ± 0.03V
Over-charge Release Per Cell
3.60V ± 0.05V
Over-charge Release Method
Discharge below release voltage
Over-Discharge Protection
Over-discharge Protection Per Cell
2.80V ± 0.05V
Over-discharge Release Per Cell
3.20V ± 0.05V
Over-discharge Release Method
Apply Charge/Voltage ≥38.4V
Over Current Protection
Discharge Over Current
110A for 30s – 450A for 1s
Protection Reset Time
5s Auto Release
Over Current Release Method
Disconnect Load
Over Temperature Protection
Battery Discharge Over Temperature
Protection to 65°C ± 5°C
Release at 50°C ± 5°C
Battery Charge Over Temperature
Protection to 55°C ± 5°C
Release at 45°C ± 5°C
Short Circuit Protection
Auto release after 5s
Mechanical Characteristics
Dimensions
Length 519mm
Width 273mm
Height 222mm
Weight
Approx 37.7 Kg
Storage Information
Temperature & Humidity Range
≤ 30 days -20°C ̴ 35°C, 45 ̴ 75% RH
≥ 30 days -10°C ̴ 30°C, 45 ̴ 75% RH
Self-discharge Rate
≤ 3% Per Month
Note: Specifications subject to change without notice.
Enquiry Form
Be The First To Review This Product!
Help other Outback Marine Australia Pty Ltd users shop smarter by writing reviews for products you have purchased.