95 Series (J180 Mount) Alternators
Balmar 95 Series Marine Alternator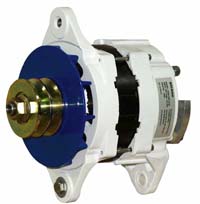 Moderately compact for its generous output curves, the 95-Series features an extra heavy duty stator winding with large gauge wire for added output at low RPM. Combine that with extra large sealed bearings, a massive .875" pulley shaft and high amperage diodes for durability and long alternator life.
The 95-Series alternator features an isolated ground for sure continuity to system ground, and a brawny J-180 style saddle mount for plenty of resistance to twist and torque.
The lower amperage 12 volt unit provides a higher relative output at low RPM making it suitable for higher output at near idle speeds.
Isolated Ground Terminal
Bidirectional cooling fan.
6,500 RPM maximum rotation speed.
Corrosion-resistant powdercoat finish.
Meets US Coast Guard Title 33 safety standards.
Requires external regulation.
1-year limited warranty.
ShWt. 10 KG
Image
Part No
Name
Voltage
Gnd
Mount
Price


(inc GST)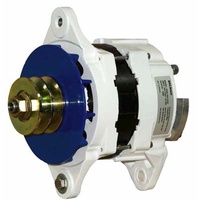 BAL.9504-24-140-IG
Balmar Alternator, 95 Series, 140a, 24v, SaddleMT, 4 inch, DualPul, IsoGrd
SKU: BAL.9504-24-140-IG

24V
Isol Gnd
4 J180 Saddle
$2,889.38
$2,394.20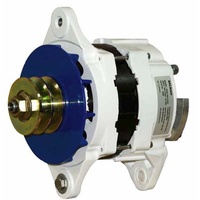 BAL.9504-12-210-IG
Balmar Alternator, 95 Series, 210a, 12v, SaddleMT, 4 inch, DualPul, IsoGrd
SKU: BAL.9504-12-210-IG

12V
Isol Gnd
4 J180 Saddle
$2,889.38
$2,394.20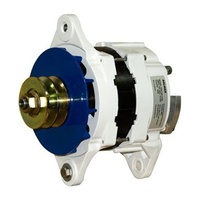 BAL.9504-12-165-IG
Balmar Alternator, 95 Series, 165a, 12v, SaddleMT, 4 inch, DualPul, IsoGrd
SKU: BAL.9504-12-165-IG

12V
Isol Gnd
4 J180 Saddle
$2,747.24