Victron SmartSolar MPPT 75/10 Bluetooth Solar Controller
Victron SmartSolar 75 VOC, 10 Amp MPPT solar panel charge controller for 12V and 24V battery systems (including Lithium) with Bluetooth.
Availability:
SKU:

VIC.SCC075010060R

Battery: 12/24V
Max Voc: 75V
Charge Current: 10A
Manufacturer:

Victron

MPN:

SCC075010060R

Shipping Weight:

0.47kg

---
---
Insurance
All shipments are covered for loss or damage while in transit up to the point of delivery to the nominated shipping address. Insurance does not cover goods left on your premises under your instruction.
Related Products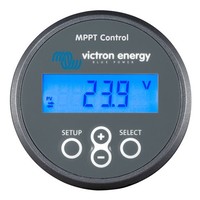 VIC.SCC900500000
$112.00 24% OFF RRP $148.00
Victron SmartSolar 75 VOC, 10 Amp MPPT solar panel charge controller for 12V and 24V battery systems (including Lithium) with Bluetooth.
MPPT 75/10, 75/15, 100/15, 100/20, 100/20-48V
MPPT controllers operate solar panels at their Maximum Power Point improving efficiency up to 30% by adjusting input voltage to harvest the maximum power from the solar panels. It then manages this power to supply the varying voltage requirement of the battery plus load.
The MPPT senses when to adjust the output that it is being sent to the battery and will shut down for a few microseconds, calculate and make relevant adjustments. The principle of MPPT is to extract the maximum possible power from a solar panel by setting the most efficient combination of voltage and current - maximum power point.
Load output will prevent the battery from becoming totally flat [which can cause damage]. A preset discharge level can be configured at which point the SmartSolar will disconnect the load preventing the battery draining further.
Alternatively, the inbuilt intelligent battery management feature in the SmartSolar can be set. Known as Battery Life the feature is designed to protect and better maintain your battery by ensuring 100% recharge is regularly reached. SmartSolar attempts a daily 100% recharge. During periods of poor weather or low light conditions, it raises the disconnect voltage until successful.
Built-in Bluetooth along with the VictronConnect App provides easy access to the extensive range of functions available on your solar charge controller such as:
Solar Gauge – Realtime power output
Battery Voltage
Battery Current
Battery State
Load Output [100/20 and smaller]
Load current – shows the current being drawn by appliances
History Analysis
Various Settings
Victron MPPT model names explained
MPPT 75/50, the first number is the maximum PV open circuit voltage. The second number, 50, is the maximum charge current. Use the Victron MPPT Excel sheet or Online MPPT Calculator for PV sizing calculations.
For more information about PWM or MPPT charge controllers, read the Victron whitepaper: which solar charge controller: PWM or MPPT?
Purchase with confidence knowing your product is covered by the Victron 5-year manufacturer warranty.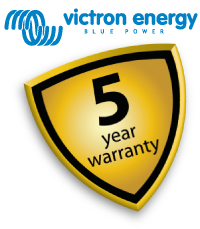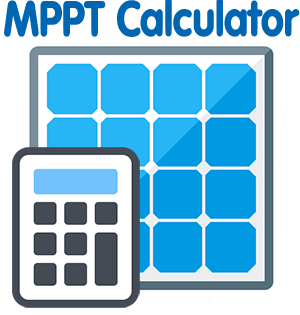 MPPT 75/10, 75/15, 100/15, 100/20, 100/20-48V Specifications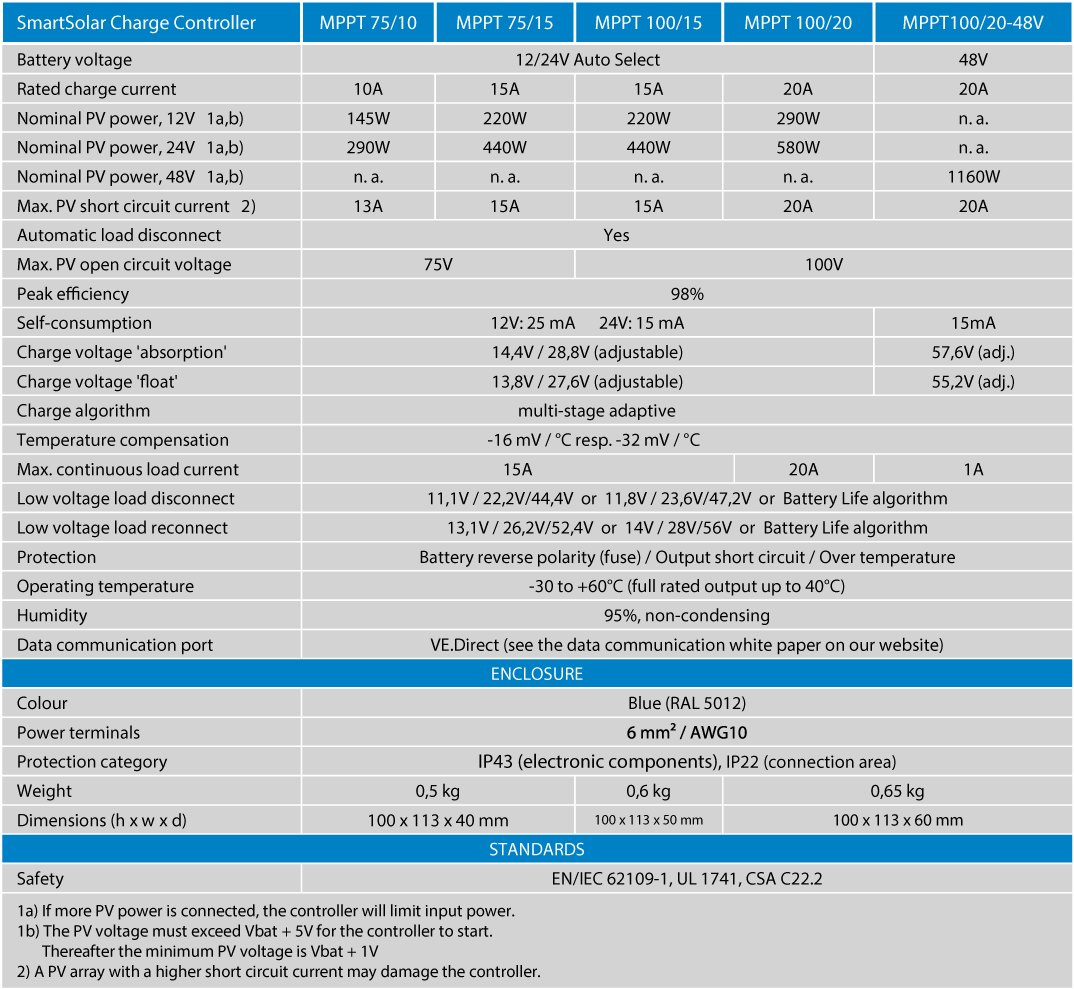 Enquiry Form
Bluetooth makes it easy

By:

Ashley

on 19 September 2020

This has to be the best solar charger I've ever used. The Bluetooth app functionality is great and I'm excited to use it more in the caravan. It monitors battery voltage for those who don't want to buy a seperate monitor. Thanks for the great product and the easy ordering system.




(5)