Coffee / Food Van Silent Power
A lithium battery and an inverter charger generate more profit as an alternative to producing noise and exhaust fumes in mobile food van applications.
The soft serve icecream van application demonstrates the full replacement of a generator with a Lithium battery energy system. A conventional approach would require a 6KVA class generator in order to support the continuous and starting loads of a 2.2 KW soft serve ice cream machine. An 18 KWH battery bank in conjunction with a 5 KVA inverter charger provides the power to silently run the machine and auxiliary equipment throughout the day. Solar panels and engine cross charging provide power assistance to the battery bank to support up to 10 hours of autonomous operation.
Of an evening, the system is plugged into mains power to fully recharge the battery bank at a total cost of around $5.00. This compares to around $35 per day for generator fuel costs. Taking into account generator service costs and eventual replacement, the Lithium system will reasonably pay for itself in around two to three years.
What's Required?
To begin with we would need to know a few figures. Firstly to size the inverter we would need to know the peak power draw. Secondaly for the battery size the amount of hours you intend on operating and in addition the average current draw on a per hour basis.
The best way to obtain this information is to use a Power Meter and make a note of the maximum Amps or Watts to find the peak requirement and run the system as you would for at least an hour to obtain the average hourly usage. To simulate a hot day, turn all fridges/freezers to maximum coolness so the compressors are running together.
With this information we can then start looking at what you will require.
How much does it cost?
This depends greatly on the above requirements, however as an entry point, budget for at least $15,000.00 on parts.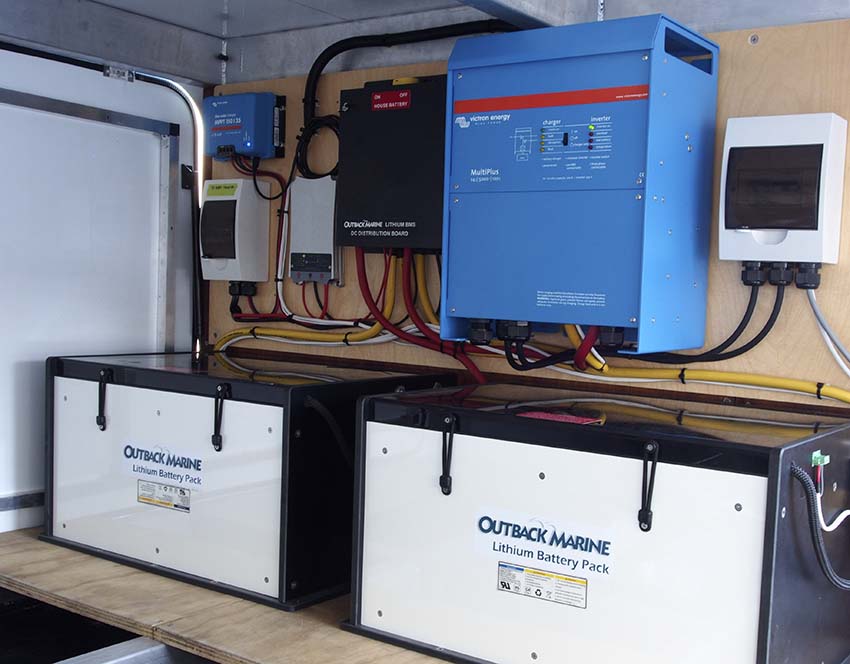 Lithium batteries and inverter charger replace an on-board generator for quiet pollution free operation.
Lithium batteries provide massive storage capability
Multi-charging from grid, solar and vehicle engine
Two year genset payback generates extra profit